Pharma Leaders Power Brand Awards 2019 Nominees announced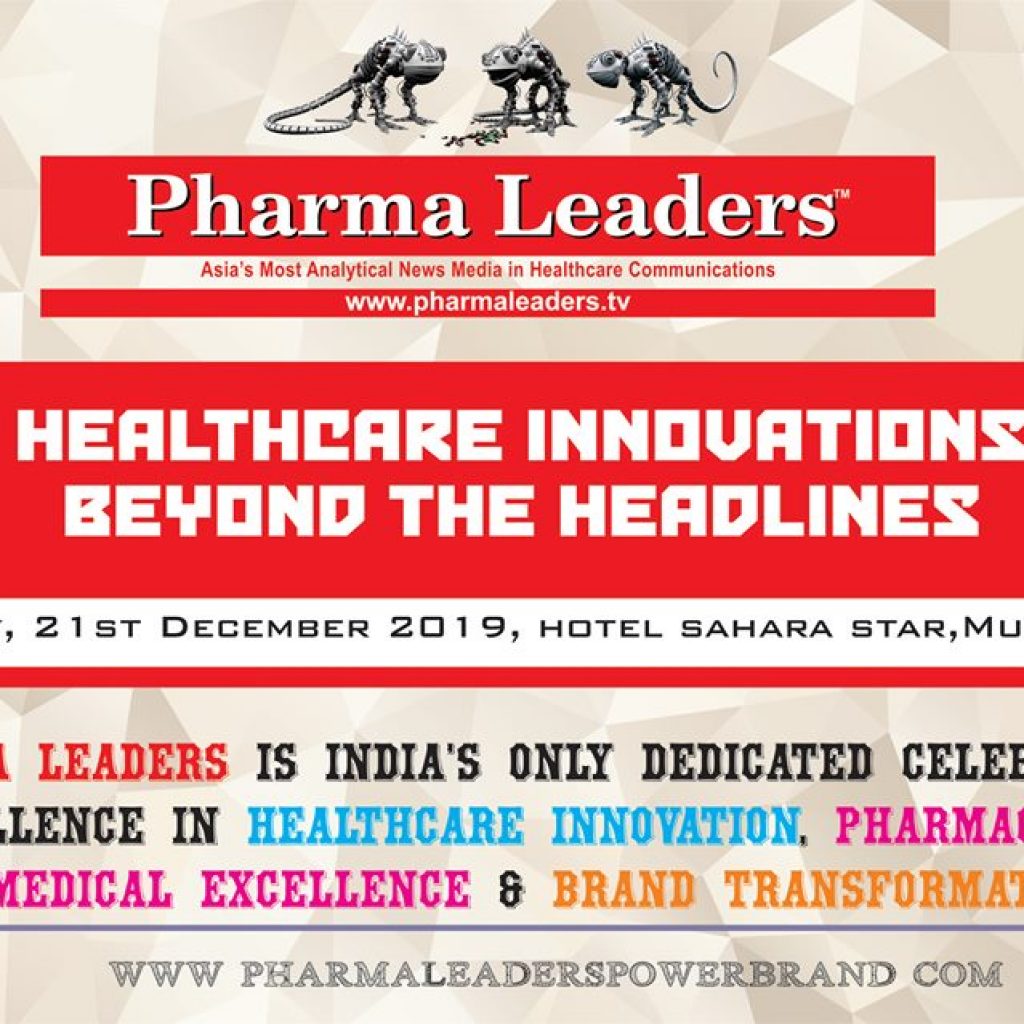 Pharma Leaders Visionary Healthcare Reformist of the Year 2019  
Prof. K. Srinath Reddy, President, Public Health Foundation of India (PHFI)
Dr. Ramakant Panda, Chief Consultant for Cardiovascular Thoracic Surgery and Vice Chairman and Managing Director, Asian Heart Institute
3.Dr. Mohit Bhandari,Founder Director, Mohak Bariatrics and Robotics, Indore
Dr. Nomal Chandra Borah, Founder, GNRC Hospitals
Dr. B. Ramana Rao, Physician & Cardiologist, Founder, The village clinic
Anant Darshan Shankar, Vice Chancellor, Transdisciplinary University and Founder Trustee, Foundation for Revitalisation of Local Health Traditions
 
Pharma Leaders Innovative MNC of the Year 2019
Abbott India Ltd
Pfizer Limited
Sanofi India Limited
Novartis India Ltd
Boehringer Ingelheim India Pvt. Ltd.
MSD Pharmaceuticals Pvt Ltd

Pharma Leaders Indian of the Year in Neurology 2019
Dr. A. Marthanda Pillai,Managing Director, Ananthapuri Hospitals & Research Institute in Trivandrum
Dr. Prahlad Kumar Sethi, Chairman of the department of Neurology , Sir Ganga Ram Hospital, New Delhi,Brain Care Foundation
Dr. (Prof.) Veer Singh Mehta,Chairman,Neurosciences,Paras Hospitals, Gurgaon
Dr. Ashish Suri,Professor,Department of Neurosurgery, All India Institute Of Medical Sciences, New Delhi
Dr. N K Venkataramana, Founder Chairman and Chief Neurosurgeon, Brains Neuro Spine Hospital.
Dr. Paresh K Doshi, Director of Functional and Stereotactic Neurosurgery Jaslok Hospital & Research Centre.

Pharma Leaders Indian of the Year Cardiology 2019
Dr. Jose Chacko Periappuram, Chairman, Heart Care Foundation.
Dr. Gopichand Mannam, Chief, Cardio-Thoracic Surgeon, Founder, Star Hospitals
Dr. Alla Gopala Krishna Gokhale, Chief Cardiothoracic, Transplant and Minimal Access Cardiac Surgeon, Apollo Hospitals
Dr. K R Balakrishnan, Director – Cardiac Sciences, Chief Cardiothoracic & Transplant Surgeon,Fortis Malar Hospital
Prof. (Dr.) Upendra Kaul, Chairman & Dean Academics and Research at the Batra Hospital and Medical Research Center, New Delhi.
Prof. Dasari Prasada Rao,Cardiothoracic Surgeon,Indo US Hospital India
Pharma Leaders Indian of the Year Orthopedics 2019
Dr. Sharad Moreshwar Hardikar,Founder, Hardikar Hospital, Pune.
Dr. Raju Vaishya, Senior Orthopaedic and Joint Replacement Surgeon , Indraprastha Apollo Hospitals, New Delhi
Dr. Dinshaw Pardiwala, Director, Arthroscopy, Sports Orthopaedics & Shoulder Service & Head – Centre for Sports Medicine,Kokilaben Dhirubhai Ambani Hospital,
Dr. Mir Jawad Zar Khan,Orthopedist, Joint Replacement Surgeon, Spine Surgeon, Director,Germanten Hospital
Dr. Prakash M Doshi, Director of Orthopaedics & Traumatology & Head of Department of Orthopaedic, Nanavati Super Speciality Hospital
Dr. Sanjay S Desai, Specialist in Shoulder and knee Surgery,Breach Candy Hospital
Pharma Leaders Indian of the Year  –  Metabolic & Bariatric Surgery  2019
Dr. K. P. Haridas, Chairman & Managing Director, Chief Surgeon and Senior Consultant,Lords Hospital
Dr Pradeep Chowbey,Chairman – MAMBS & Allied Surgical Specialities,Max Super Speciality Hospital, Saket
Dr Ramen Goel, Senior Metabolic & Bariatric Surgeon, Founder, Centre for Metabolic Surgery(CMS)
Dr Jaydeep Palep,Director & Head, Department Of Bariatric And Minimal Access Surgery, Nanavati Super Speciality Hospital
Dr. R. Padmakumar, Sr. Consultant Laparoscopic and Metabolic Surgeon,Managing Director of Keyhole Clinic – Center for Obesity and Laparoscopic Surgery
Dr.Shrihari Dhorepatil,gastro-intestinal,laparoscopic & obesity surgeon,Managing Director, Shree Hospital,Pune

Pharma Leaders Indian of the Year Ophthalmology 2019
Dr. R.V.Ramani,Founder, Sankara Eye Foundation & Sankara Eye Hospital
Dr. S. Natarajan,Founder,Aditya Jyot Eye Hospital
Dr. Vikas Haribhau Mahatme, Founder, Mahatme Eye Bank & Eye Hospital,Nagpur
Dr. Keiki R. Mehta, Founder & Director Mehta International Eye Institute
Dr. Ashok C. Shroff,Founder, Shroff Eye Hospital
Dr. M. S. Ravindra,Chairman & Medical Director,Karthik Netralaya
Pharma Leaders Indian of the Year Oncology 2019
Dr. Vijay Anand Reddy, Director & Senior Consultant, Apollo Cancer Institute, Hyderabad
Dr. B. Paul Thaliath, Head of the Department of Radiation Oncology,  Kamla Nehru Memorial Hospital, Prayagraj.
Dr. Dattatreyudu Nori, International Director, Apollo Cancer Centres, Apollo Hospitals Group
Dr. Raghu Ram Pillarisetti, Director & Consultant Surgeon – KIMS – USHALAKSHMI Centre for Breast Diseases
Dr. Mohana Vamsy,Chief Surgical Oncologist & Founder,Omega Cancer Hospitals, Hyderabad Institute of Oncology Private Limited.
Dr Lalit Kumar, Professor and Head,Department of Medical Oncology, All India Institute of Medical sciences
Pharma Leaders Indian of the year Dentistry  2019
Dr. Anil Kohli, Founder, Dr. Soni's Dental Clinic
Dr. Mahesh Verma, Vice Chancellor, Guru Gobind Singh Indraprastha University (GGSIPU)
Dr. SM Balaji, Consultant Oral and Maxillofacial Surgeon & Chairman, Balaji Dental & Craniofacial Hospital,Chennai
Dr. Arumalla Sridhar Reddy, Chairman, Dr. Sridhar International Dental Hospitals
Prof. Dr. M.S. Gowd,Fellow American Academy of Cosmetic Dentistry & Founder,Dr.Gowds Dental Hospital.
Dr. Raj Krishnan, Founder, Dr. Rajkrishnan's Dental Clinic
Pharma Leaders Indian of the Year in Plastic & Cosmetic Surgery 2019
Dr. Ashok Gupta, Sr. Consultant Plastic Surgeon,Bombay Hospital Institute of Medical Sciences
Dr. Anil Tibrewala, Consultant plastic & Cosmetic Surgeon, Hinduja Hospital,
Dr. Ashish Davalbhakta, Managing Director and Chief Aesthetic Plastic Surgeon, Aesthetics Medispa
Dr. A. Sivakumar, Sr. Consultant Plastic & Reconstructive Surgeon, Desire Aesthetics
Dr. Dushyanth Kalva, Chief Plastic and Cosmetic Surgeon, Chief Plastic and Cosmetic Surgeon,Inform Clinics
Dr. Harikiran Chekuri, Chief Plastic, Reconstructive, Aesthetic Surgeon, ReDefine Hair Transplant & Plastic Surgery Centre
Pharma Leaders Most Promising & Valuable CRO of India 2019
Biosphere Clinical Research Private Limited
Vedic Lifesciences Private Limited
Micro Therapeutic Research Labs Pvt.Ltd.
Medpace Clinical Research India Pvt. Ltd.
EmProCell Clinical Research Pvt. Ltd
ClinSync Clinical Research Pvt Ltd
Pharma Leaders Most Influential Leader in Healthcare Big Data Analytics 2019  
Emids Technologies Pvt Ltd.
OptumInsight India Private Limited
Manorama Infosolutions Pvt. Ltd
TEG Business Solutions Private Limited
Camomile Healthcare Ventures Private Limited
Scriplogix Analytics Private Limited
 Pharma Leaders Most Promising Enterprise in Disposable Medical devices 2019  
Iscon Surgicals Ltd.
Sangam Healthcare Products Ltd
SPM Medicare Pvt. Ltd.
Nipro India Corporation Pvt. Ltd
LifeLong Meditech Pvt. Ltd.
SRS Meditech Ltd
 Pharma Leaders Most Admired Clinical Research Enterprise of The Year 2019  
Indegene Private Limited
Cliantha Research Limited
Lotus Labs Pvt Ltd
Genelife Clinical Research Private Limited.
Sitec Labs Pvt. Ltd.
Actimus Biosciences Pvt. Ltd
 Pharma Leaders Most Promising Woman Clinical  Leader 2019
Dr. Saral Thangam, Ceo & Managing Director, Norwich Clinical Services
Dr. Rabinder Buttar,President, CEO & Founder,Clintec International.
Ms. Bindi Chudgar,Managing Director,Lambda Therapeutic Research
Ms. Uma Janapareddy,Founder & Chief Executive Officer, Achiral Systems Private Limited
Ms. Kinjal Vora, Founder & CEO, Vasta Bio-informatics Private Limited
Ms.Harita Vasireddi,Managing Director, Vimta Labs Limited.
Pharma Leaders Most Promising Healthcare IT Solutions Enterprise 2019
Multiplier It Solutions India Private Limited
Health Asyst Private Limited
Attune Technologies Pvt Ltd
AGS Health Private Limited
Access Healthcare Services Pvt Ltd.
Smartify Health Pvt Ltd
 Pharma Leaders Innovative Leadership in Clinical Research 2019
Dr. S Chandrashekaran,Chairman and CEO,Vipragen Biosciences Pvt Ltd
Mr. Krishna Kishore Kuchipudi,Executive Vice Chairman, Managing Director, Jeevan Scientific Technology Limited
Mr. Vishal Dhawan, Founder and Director, Synapse Labs Private Limited.
Dr. Sriraam VT,Founder, Aurous Healthcare Research And Development (india) Private Limited
T. Arasu,Founder & Managing Director, IDD Research Solutions INC (former I5 Clinical Research Pvt.Ltd)
Satish Marukurthi,Founder & Ceo,Croissance Clinical Research Private Limited
Pharma Leaders Most Promising Face of Orthopedics   2019
Dr. Tejas Upasani, Orthopedic & Knee Replacement Surgeon, Upasani Super Speciality Hospital
Dr. Satyen Mehta, Consultant Spine Surgeon, Fortis Hospital,Hinduja Hospital
Dr. Pradeep B. Bhosale,Director – Arthritis & Joint Replacement Surgery,Nanavati Super Speciality Hospital
Dr. Pranjal Kodkani, Director & Chief Surgeon : Center for Joint Preservation Surgery – Arthroscopy & Sports Injury
Dr. Kaushal Malhan, Director Orthopaedic Surgery with special interest in Knee and Hip Surgery
Dr. Ashutosh Chaudhari, Knee Replacement and Minimal Incision Surgeon, Dr. Ashutosh S. Chaudhari Clinic
Pharma Leaders Dynamic Entrepreneur  of the Year  2019
Mr. S.S.Vanangamudi,Chairman & Managing Director.Apex Laboratories Pvt. Ltd.
Mr. Suhel Khatib,Chairman,Medley Pharmaceuticals Limited
Mr. Prashant Malladi,Chairman & Managing Director,Malladi Drugs and Pharmaceuticals Limited
Mr. Anant R. Thakore, Managing Director, Avik Pharmaceutical Limited.
Mr. Venkat Jasti, Chairman & CEO,Suven Life Sciences Ltd.
Mr.Abhay Kanoria, Chairman & Managing Director, Anglo-French Drugs and Industries Ltd.
Pharma Leaders Most Promising  Leader in Diabetes Care  2019
Dr. Sunil Gupta, Founder,Sunil's Diabetes Care n' Research Centre Pvt. Ltd.
Dr. Pradeep Gadge,Founder, Dr. Gadge's Diabetes Care Centre
Dr. Paresh Ved,Founder, Wellness Diabetes Speciality Clinic
Dr. Pradeep Talwalkar,Chief, Talwalkar Diabetes Clinic
Dr. Vijay Panikar, Founder And Director, Dr. Panikar's Speciality Care.
Dr. Unnikrishnan A G,CEO and Endocrinologist, Chellaram Diabetes Institute, Pune
Pharma Leaders Innovative Woman Leader  in Diet & Nutrition 2019
Dr. Shikha Sharma,Founder, Dr Shikha's NutriHealth
Dr. Nafeesa Imteyaz, Founder, First Eat Right,Dr. Nafeesa's Diet & Nutrition Clinic
Ms. Suman Agarwal,Selfcare – Health Design By Suman Agarwal
Ms. Kashish Alimchandani,Founder,Kashish Alimchandani Clinic
Ms. Munmun Ganeriwal,Founder,'Yuktahaar'
Dr. Pooja Sharma, Weight Management & Lifestyle Expert.
Pharma Leaders Most Promising & Innovative Company of The Year 2019
Brinton Pharmaceuticals Ltd.
Veritaz HealthCare Limited.
Eywa Pharma Pvt.Ltd.
Aishwarya Healthcare Pvt.Ltd.
Oaknet Healthcare Pvt. Ltd
Linux Laboratories Private Limited

 Pharma Leaders Most Innovative & Promising Leader in Dialysis solutions 2019
Apex Kidney Care Pvt. Ltd
Nephrocare Health Services Private Limited
Fresenius Medical Care India Pvt Ltd
DCDC Health Services Pvt. Ltd
Baxter India Private Limited
Browndove Healthcare (P) Ltd

 Pharma Leaders Most Promising & Innovative Leader in Medical Device 2019
Lotus Surgicals Pvt Ltd.
South India surgical co. ltd.
Veol Medical Technologies Pvt. Ltd.
Healthium Medtech Pvt. Ltd.
Meril Life Sciences Pvt. Ltd.
Blue Neem Medical Devices Private Limited.
Mr. Srinivasan HR,Vice Chairman & Managing Director, Ecron Acunova Limited
Mr. Prasad Keni, Founder, Chairman & Managing Director, VerGo Pharma Research Pvt. Ltd.
Mr. Vamsi Maddipatla,Chairman Clinovo, LAXAI Life Sciences
Dr. Ferzaan Engineer,Co-founder and Chairman,Cytespace Research Private Limited
Dr. Sashi Kiran Kode,Managing Director,D2L Clinical Solutions Pvt. Ltd
Dr. Prabhu Mishra,CEO at StemGenn Therapeutics, President -StemMax Research
Pharma Leaders Most Promising Hospital in Patient Care 2019  
The Zen Multi Speciality Hospital
Billroth Hospitals Pvt.Ltd
IQRAA International Hospital & Research Centre
Cytecare Hospitals Pvt.Ltd.
Regency Healthcare Ltd.
Paul's Hospital
India's Most Valuable Healthcare Company in Patient Care 2019
Abbott Healthcare Pvt Ltd
Pfizer Limited
Sun Pharmaceutical Industries Limited
Cipla Limited
Cadila Healthcare Limited
GlaxoSmithKline Pharmaceuticals Ltd.