Mapra Laboratories,Paviour Pharmaceuticals,Talent Healthcare, Seagull Pharma,Glowderma & Premier Nutraceuticals are in the race for the prestigious Pharma Leaders Innovative Company of the year 2017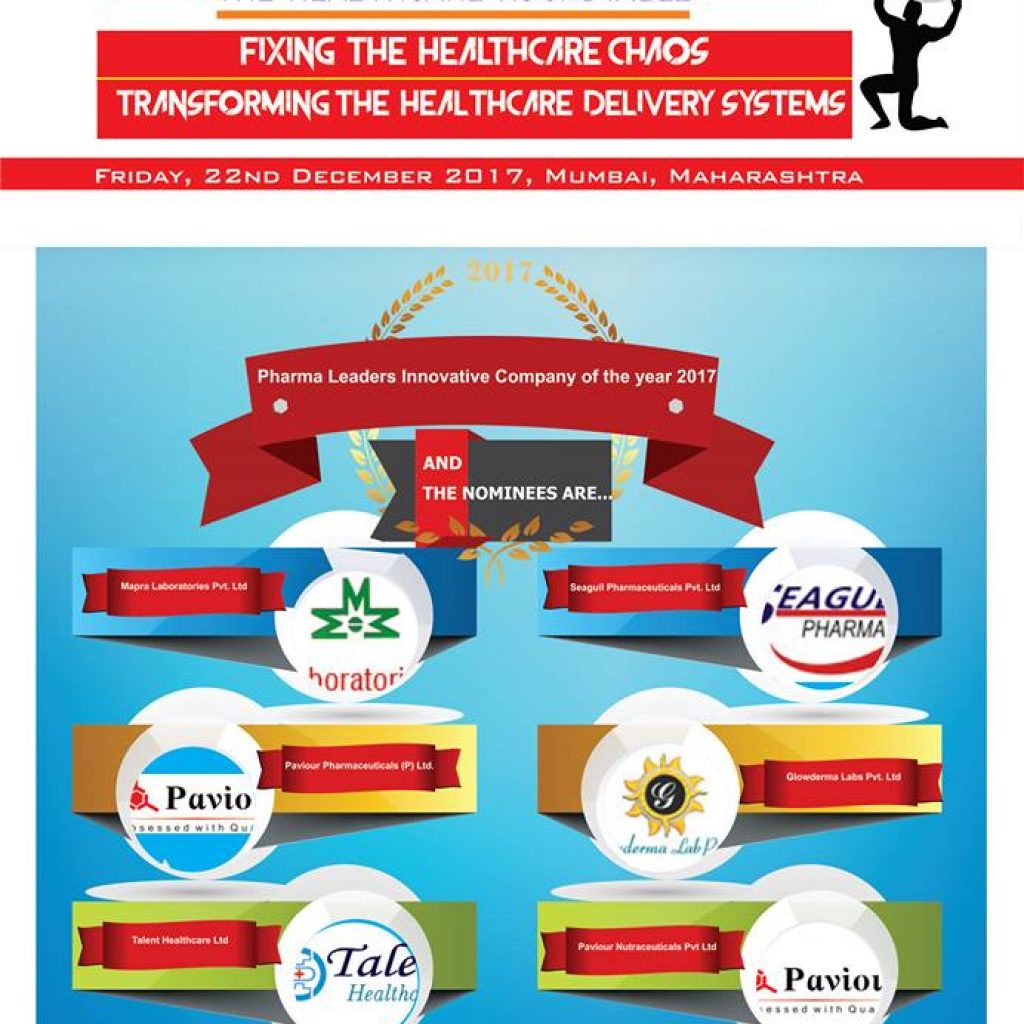 Mapra Laboratories,Paviour Pharmaceuticals,Talent Healthcare, Seagull Pharma,Glowderma & Premier Nutraceuticals are in the race for the prestigious Pharma Leaders Innovative Company of the year 2017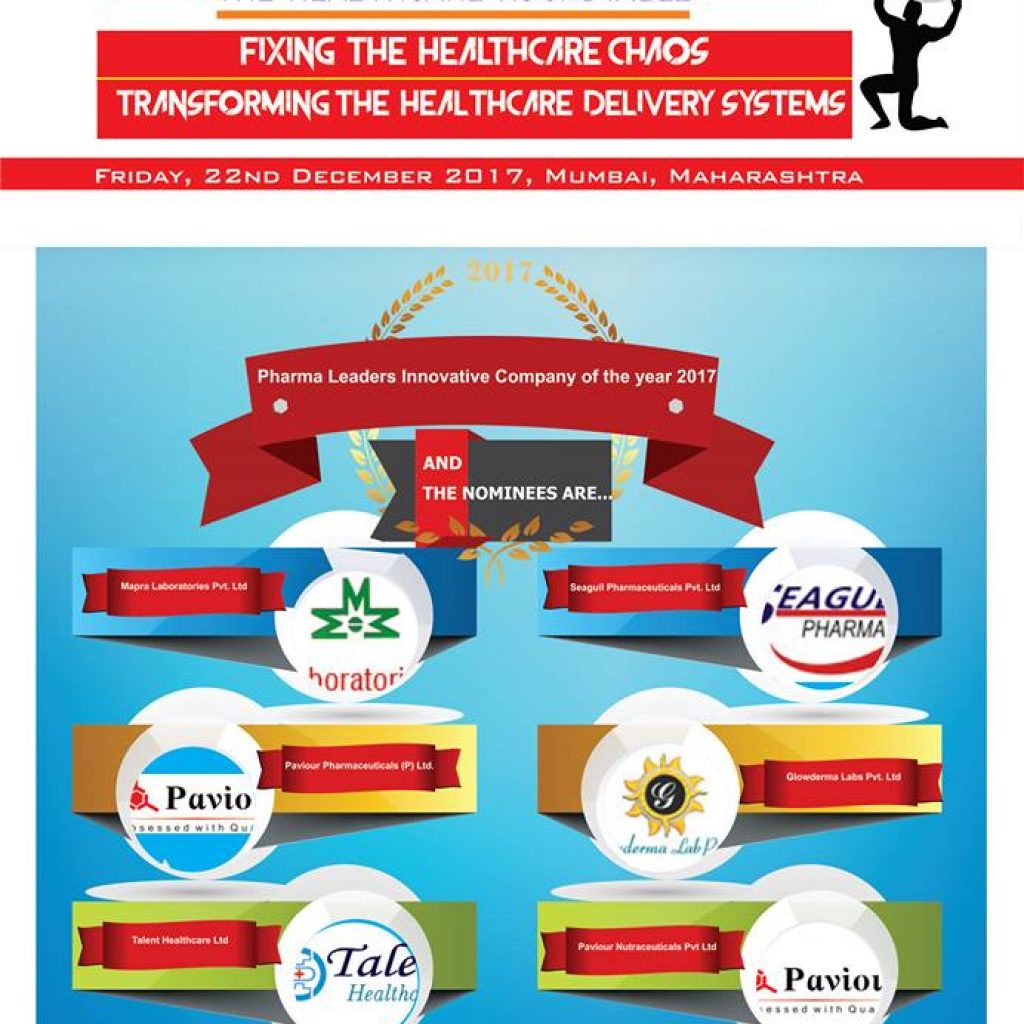 India's pharmaceutical companies are facing a series of regulatory and other hurdles, exacerbated by self-inflicted errors and badly conceived government policies that will hobble the $30 billion generic drug sector. Some companies have started to work together to raise quality and iron out regulatory compliance problems, but others have yet to make serious efforts to help themselves. That needs to change quickly. The pharma industry faces a host of challenges. The government is trying to cut healthcare costs by forcing doctors to prescribe cheaper unbranded generic medicines and extending the range of drugs that are subject to price controls. It is also discouraging high-margin combination drugs and phasing out loan for safety reasons.All that comes on top of longer-term issues such as the increasing use of nontariff barriers by major importing countries and an erosion of profit margins caused by growing competition between existing pharma companies and new entrants to the sector.In phasing out loan licensing, which accounts for 40% of pharmaceutical production, the government is trying to address drug-quality issues, arguing that small subcontractors may not be as quality conscious as the big pharma companies, and are more difficult to monitor.
Here are the final Six Nominees at the historic 10th Annual Pharmaceutical Leadership Summit & Business Leadership Awards 2017
Pharma Leaders Innovative Company of the year 2017 Nominees
1. Mapra Laboratories Pvt. Ltd. (037)
2. Paviour Pharmaceuticals (P) Ltd. (038)
3. Talent Healthcare Ltd. (039)
4. Seagull Pharmaceuticals Pvt. Ltd. (040)
5. Glowderma Labs Pvt. Ltd. (041)
6. Premier Nutraceuticals Pvt Ltd. (042)

How to Vote
1. Via Online : at www.pharmaleaders2017.com
2. Voting Deadline : The Voting Ends on 10th December 2017 VOTE NOW!
3. Via Email : Type Your Code & Mail it to myvote@pharmaleaders2017.com ( Example if your code is XXX, than type XXX & send to myvote@pharmaleaders2017.com)
4. Via SMS : Type Your Code & send it to ++ 91 7205388142 (Example if your code is XXX, than type XXX & send it to ++ 91 7205388142. This is a standard Indian Number & only standard sms charges will apply & those who has free SMS on the plan, no cost will involve. There are no premium charges. Only one SMS will be accepted at one vote & one category & repeated smses from one number will not be counted)
5. By Pharmaleaders Group : Physical interviews will be carried out by Pharmaleaders Journalists/Researchers to a sample size of 3.5 Lakh voters will be conducted in 16 Cities & will be counted in final votings. Please note that only 40 % of weightage are given to SMS/EMAIL/ONLINE/PHYSICAL INTERVIEWS to gauge the mood of the nation. 60 % purely rests on merits & Jury Members decision to give the real justice & make it transparent in our quest to find the real winners as we have been doing over last 6 annual editions.
Rated & widely acclaimed by the industry experts & analysts as a credible award platform known for selecting top leaders through a meticulous methodology & stringent selection process involving research inputs & credible voting process by noted eminent juries, Pharma Leaders today is India's Only Dedicated Celebration Of Excellence In Healthcare Innovation,Pharmaceutical & Medical Excellence And Brand Transformation. Pharma Leaders™ as you will be aware since its inception in 1999, has so far awarded 500 top Parma Entrepreneurs, Medical Professionals, Research Scientists & Government Academia.