Dr. Shuchin Bajaj,Prof. Dr. C Mohamed Ashraf,Dr. Hrishikesh D. Pai, Dr.Dharminder Nagar, Dr. Sourabh Welling, Dr.S Gurushankar are in the race for the prestigious Healthcare Leader of the Year 2017 at Nation's Biggest Pharma Leaders healthcare award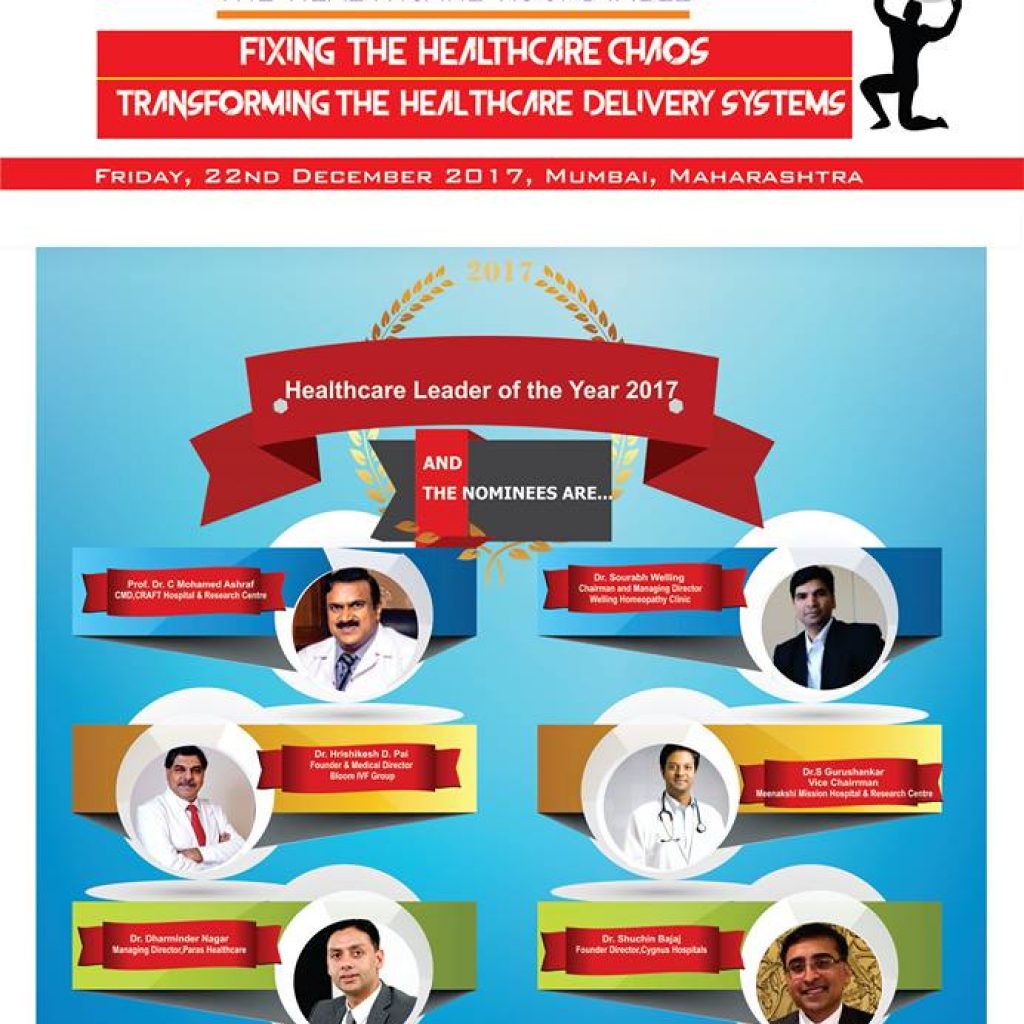 Dr. Shuchin Bajaj,Prof. Dr. C. Mohamed Ashraf,Dr. Hrishikesh D. Pai, Dr.Dharminder Nagar, Dr. Sourabh Welling, Dr.S Gurushankar are in the race for the prestigious Healthcare Leader of the Year 2017 at Nation's Biggest Pharma Leaders healthcare award

In a world where healthcare is a key driver for the growth of the nation's overall prosperity, healthcare leaders are being forced to reinvent their organizations following transformational changes in the sector coupled with complex challenges. While businesses in other sectors have become adept at bringing in ideas from outside their walls, health care has lagged behind. A key reason is that healthcare leaders are often blind when it comes to creatively responding to the industry's challenges. To respond to disruptive change, health care leaders need to first acknowledge their blindness and then actively overcome it by learning how other industries are addressing similar challenges. This requires developing creative approaches to finding new ideas from outside of healthcare. Pharma Leaders attempt & objective is to chose the leader whose ideas & innovations have paid rich dividends in the progress of healthcare. Here are the top six finalists at the prestigious category of Healthcare Leader of the Year 2017
Healthcare Leader of the Year 2017
1. Prof. Dr. C Mohamed Ashraf,CMD,CRAFT Hospital & Research Centre. (013)
2. Dr. Hrishikesh D. Pai,Founder & CEO Director, Bloom IVF Group. (014)
3. Dr. Dharminder Nagar,Managing Director, Paras Healthcare. (015)
4. Dr. Sourabh Welling, Chairman and Managing Director, Welling Homeopathy Clinic. (016)
5. Dr.S Gurushankar,Vice Chairrman, Meenakshi Mission Hospital and Research Centre. (017)
6. Dr. Shuchin Bajaj,Founder Director,Cygnus Hospitals (018)

How to Vote
1. Via Online : at www.pharmaleaders2017.com
2. Voting Deadline : The Voting Ends on 10th December 2017 VOTE NOW!
3. Via Email : Type Your Code & Mail it to myvote@pharmaleaders2017.com ( Example if your code is XXX, than type XXX & send to myvote@pharmaleaders2017.com)
4. Via SMS : Type Your Code & send it to ++ 91 7205388142 (Example if your code is XXX, than type XXX & send it to ++ 91 7205388142. This is a standard Indian Number & only standard sms charges will apply & those who has free SMS on the plan, no cost will involve. There are no premium charges. Only one SMS will be accepted at one vote & one category & repeated smses from one number will not be counted)
5. By Pharmaleaders Group : Physical interviews will be carried out by Pharmaleaders Journalists/Researchers to a sample size of 3.5 Lakh voters will be conducted in 16 Cities & will be counted in final votings. Please note that only 40 % of weightage are given to SMS/EMAIL/ONLINE/PHYSICAL INTERVIEWS to gauge the mood of the nation. 60 % purely rests on merits & Jury Members decision to give the real justice & make it transparent in our quest to find the real winners as we have been doing over last 6 annual editions.
Rated & widely acclaimed by the industry experts & analysts as a credible award platform known for selecting top leaders through a meticulous methodology & stringent selection process involving research inputs & credible voting process by noted eminent juries, Pharma Leaders today is India's Only Dedicated Celebration Of Excellence In Healthcare Innovation,Pharmaceutical & Medical Excellence And Brand Transformation. Pharma Leaders™ as you will be aware since its inception in 1999, has so far awarded 500 top Parma Entrepreneurs, Medical Professionals, Research Scientists & Government Academia.