Padma Bhushan Cardiologist Dr. Tarlochan Singh Kler & Padmashri Orthopedic & Joint Replacement Surgeon Dr. Ashok Rajgopal to address at historic Pharma Leaders 2017 Summit & Healthcare Power Brand Awards In Mumbai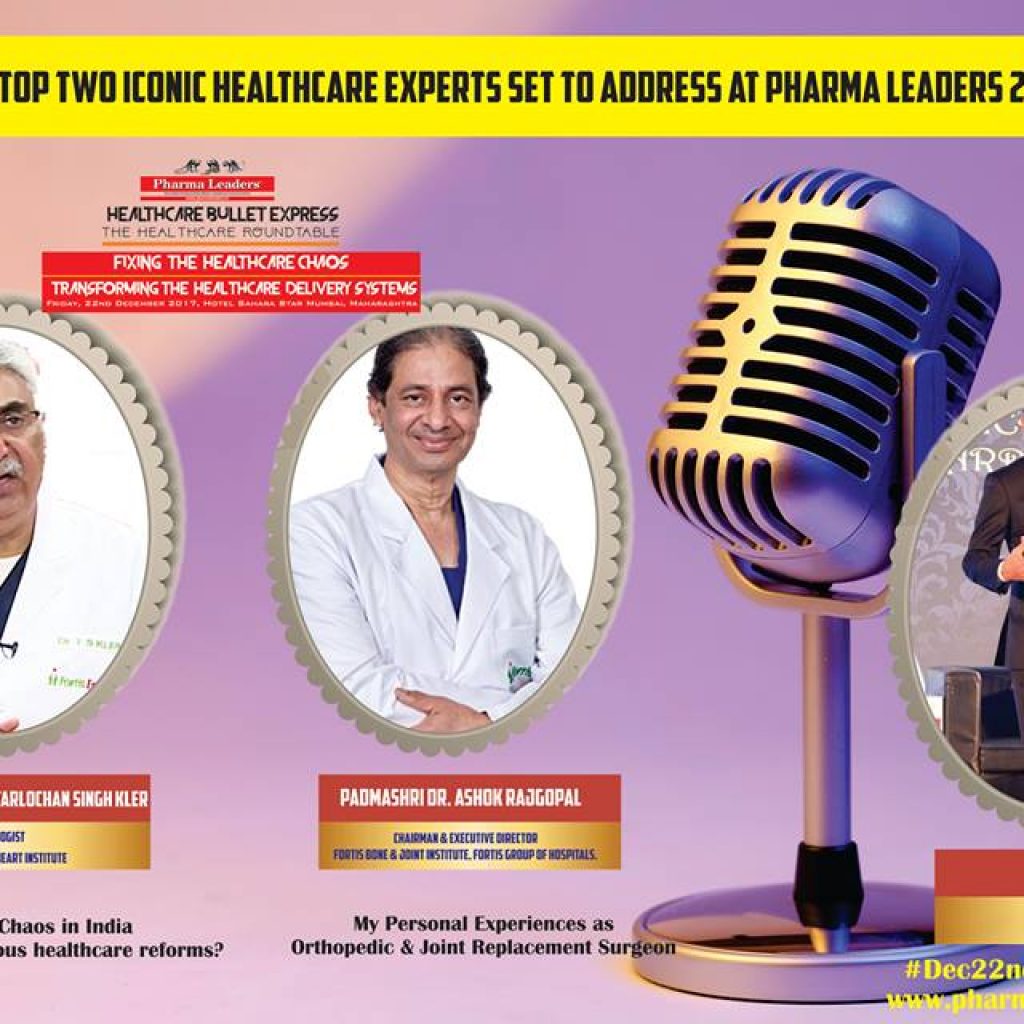 Padma Bhushan  Cardiologist  Dr. Tarlochan Singh Kler & Padmashri Orthopedic & Joint Replacement Surgeon Dr. Ashok Rajgopal to address at historic Pharma Leaders 2017 Summit & Healthcare Power Brand Awards In Mumbai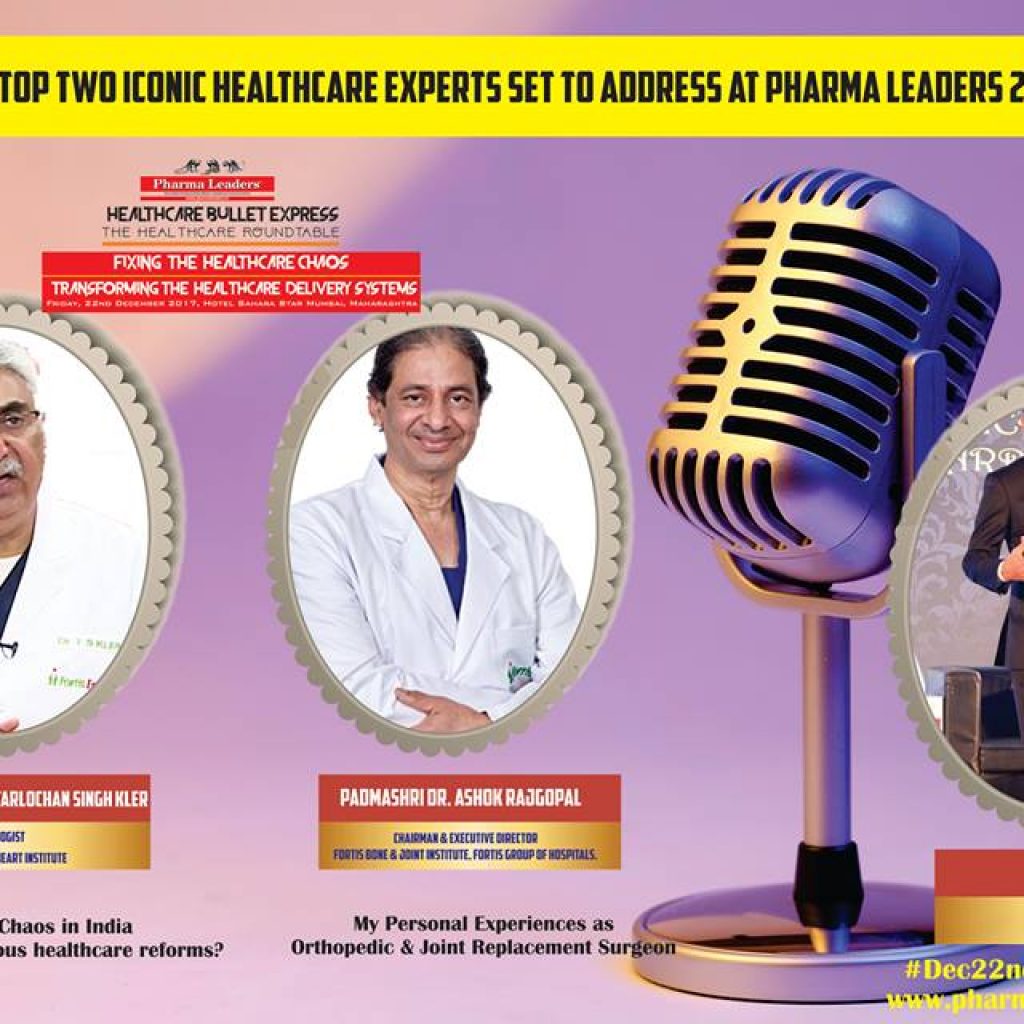 Nation's most awaited prestigious healthcare annual meeting point gains momentum as Pharma Leaders, asia's most analytical news media in healthcare communications is set to organize its 10th Annual Pharmaceutical Leadership Summit & Pharmaleaders Business Leadership Awards 2017 under the theme Bullet Healthcare Express – The Healthcare Roundtable – Fixing The Healthcare Chaos & Transforming the healthcare delivery systems" on Friday, 22nd December, Hotel Sahara Star, Mumbai, India. Nation's top two iconic healthcare experts have confirmed their presence to deliver talk at the Summit. While Padma Bhushan  Dr. Tarlochan Singh Kler, Chairman, PSRI Heart will be addressing on Healthcare Chaos in India – Why India needs serious healthcare reforms?, Padmashri Dr. Ashok Rajgopal,Chairman & Executive Director,Fortis Bone & Joint Institute, Fortis Group of Hospitals will be sharing his lifetime experience on My Personal Experiences as Orthopedic & Joint Replacement Surgeon at the power packed pharma leaders meet in Mumbai.
 AboutDr. Ashok Rajgopal, Executive Director & Chairman, Fortis Bone & Joint Institute
 An acknowledged orthopaedic surgeon with over 32 years of experience in knee surgery along with vast experience of trauma surgery as well. A PadmaShri recipient, Dr. Ashok Rajgopal was appointed Honorary Orthopaedic Surgeon to the then President of India, HE Mr KR Narayanan, in 1997.Dr. Ashok Rajgopal is a proud member of several bodies of knee surgeons who have exhibited supreme levels of commitment towards the advancement of knee surgeries. Dr Ashok Rajgopal is credited with close to 15,000Arthroscopic and over 28,000Total Knee Arthroplastic surgeries and reported to be one of the most experienced in his field in India. He was honoured by the Government of India, in 2014, by bestowing on him the Padmashri, the fourth highest civilian award, for his services to the fields of orthopaedic surgery.
About Tarlochan Singh Kler, Chairman, PSRI Heart Institute , the Best Interventional Cardiologist India pursued his MBBS from Patiala and his MD in Medicine & DM in Cardiology from PGI Chandigarh. Later, he worked in Saudi Arabia, establishing a Cardiology unit in one of their tertiary care centres. Then he proceeded to do his MRCP from the UK before returning to He is Fellow of Royal College of Physicians (FRCP), UK and Fellow of American College of Cardiology (FACC). Padma Bhushan Dr. Kler is currently working as Chairman at PSRI Heart Institute, New Delhi. He is also Heading Electrophysiology Programme at PSRI Heart Institute. Dr. Kler has many firsts to his credit, establishing the 1st dedicated Electrophysiology Department in India at Escorts Hospital; being the 1st one to implant an ICD in S.E. Asia; the 1st to implant a Heart Failure Device (Bi-ventricular pacemaker) in S.E. Asia; the 1st to implant a Combo device in S.E. Asia & being the 1st one to perform Radio Frequency Ablation in Sri Lanka & Bangladesh. Dr. Kler was first to implant an ICD in Punjab Institute of Cardiology, LAHORE & also started Radiofrequency Ablation programme in that institute. He has also helped to establish Cardiology & Electrophysiology Departments at various centres in India, thus bringing quality medical care to people outside the metropolitan cities.
Pharmaleaders 2017 annual edition attempts to bring a structural, systemic & transformative change in healthcare eco-systems & fixing the loopholes of the country's healthcare systems by continuously engaging the various stakeholders of the healthcare fraternity. Aptly titled as "The Healthcare Roundtable – Fixing The Healthcare Chaos & Transforming Healthcare Delivery Systems" as the theme of the historic 10th Annual Pharmaceutical Leadership Summit & Pharma Leaders Business Leadership Awards 2017 to be held in Mumbai on Friday,the22nd of December at the Jade Ball Room of the Hotel Sahara Star.
Known for championing the cause for healthcare innovations & raising serious discussions to pave way for a better healthcare by bringing together the finest brains of the healthcare industry under one roof, Pharma Leaders, today is india's most credible & prestigious title & a senior leader in healthcare communications. Backed by a decade of experience while working with the stalwarts of the industry, I have always preferred uniqueness of the subject that appeals to the nation & are first of its kind due to the Speaker's expertise & Pharma Leader's reputation over the years! said Satya Brahma, the architect & brain behind the Pharma Leaders Annual Summit & Awards.