Healthcare Economist & Champion of Homeopathic Medicines, Dr Mukesh Batra to unveil the US$120 Billion Global Market & India's prowess in challenging France & Germany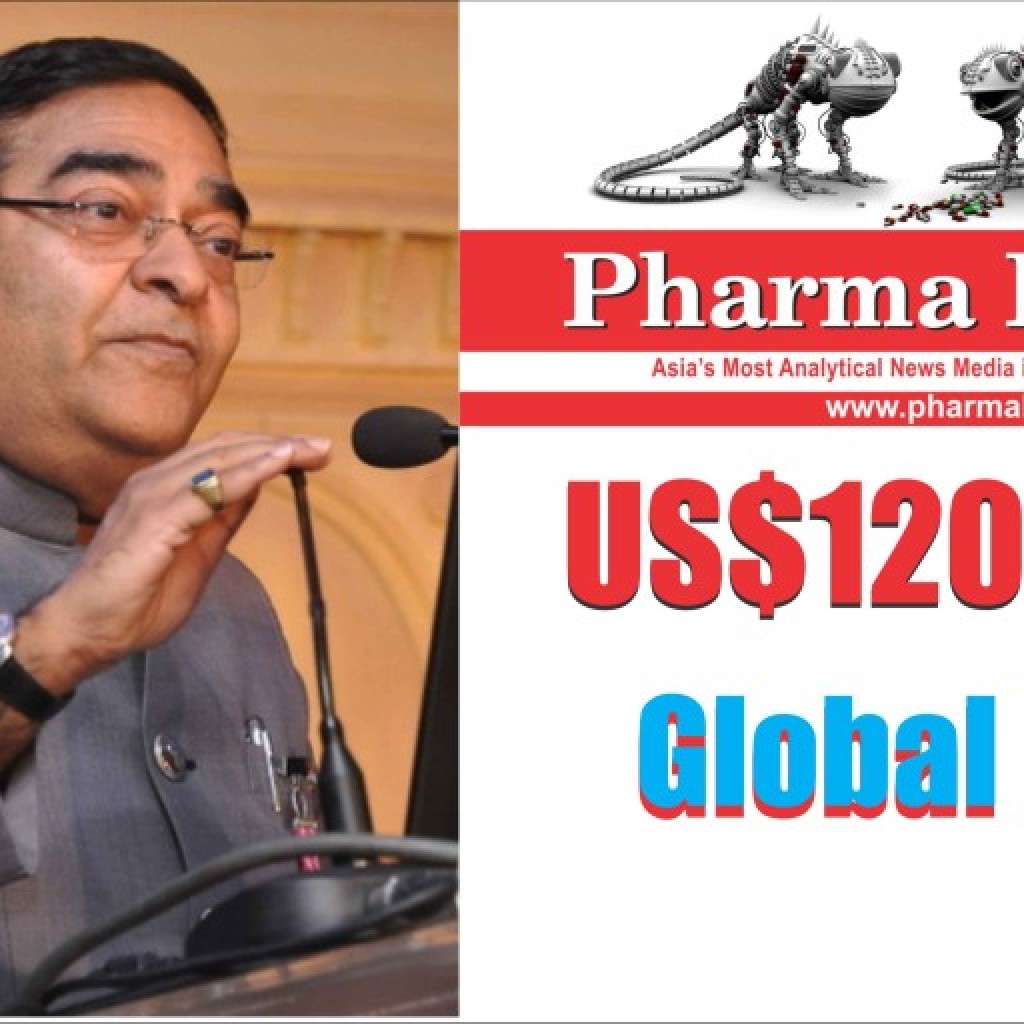 Challenges of Globalization of Homeopathic Medicines with the case study of Dr Batra's exemplary performance & success will be the most watched keynote Address
Tuesday,24th December 2013, Mumbai, Maharashtra : According to World health Organisation, Homeopathy is the fastest-growing and second-most widely-used system of medicine in the world & no wonder the man in action at the 6th Annual Pharmaceutical Leadership Summit  & Business Leadership Awards 2013 ( www.pharmaleaders2013.com  ) organized by Network 7 Media Group's media outfit Pharmaleaders ( www.pharmaleader.tv ) is Asia's most respected expert in alternative health, homoeopathy, is Dr Mukesh Batra will address the Pharmaleaders 2013 summit on Challenges of Globalization of Homeopathic Medicines. Dr Mukesh Batra, Chairman of Dr Batra's positive health clinic is fast spreading its wings in global map  Founded in 1982 by Dr. Mukesh Batra, Dr. Batra's Positive Health Clinic has come a long way today with 126 clinics spread across 64 cities in India, Dubai and UK. It provides state-of-the-art services to more than half a million people from all over the world, with the numbers growing steadily.
To the credit of india & in an era of difficult times where the Indian pharmaceutical industry is facing an uphill task in the allopathic medicine, Dr Batra's efforts are commendable but the real test lies in taking the brand to the global map specially to the developed market where regulators & price will be a major challenge. In an exclusive interview to Satya Brahma, Editor-In-Chief of Pharmaleaders, Dr Batra summed up briefly the major points of his key-note Address that of building India as  a worldwide base of creating an ideal destination in Homeopathic Research.
The World Health Organisation (WHO) has termed Homeopathy as the second largest system of medicine. According to US-based The National Centre for Homeopathy, by 2017 the Homeopathy market will be equivalent to the alternative healthcare market, which is Rs 52,000 crore currently.
Challenges of Globalization of Homeopathic Medicines: Dr Batra's Case Study
My first dharm sankat when I started my practice in 1974 was how could I make money out of other peoples sufferings.  A doctor was then seen as a healer, a family physician, a friend – even a match maker. This was more so in case of homeopathy. When the missionary bought homeopathy to India they set up many free clinics. These mushroomed over the years and together with a large number of amateur practitioners led to the belief that homeopathy was good for free. If you had to pay for it, you better consult a specialist.
The early challenges as a start-up
The number one challenge for us as a start-up was to legitimize homeopathy as a paid professional service. It has been said that, "The science of medicine is the art of healing."  It was thought that homeopathy was more an art than science – A hit and miss method that works for some, and doesn't work for others.Second challenge was to correctly position homeopathy as a modern medical tool and to increase its acceptance. It was also believed that homeopathy works only with experience. It was a perception that you have to have white hairs to prescribe white pills.Third challenge was to change the fuddy duddy perception of homeopathy into a modern therapy practiced by young progressive doctors. Medicine gets easily outdated as new technology and even newer diseases make old knowledge irrelevant. During my time there was no swine flu, bird flu, aids, not even chickengunya.
The next challenge came from the personalized and individualistic nature of homeopathy treatment. This imposes a growth limit since there are only so many patients that one doctor can handle. Thus, the fourth challenge was to professionalize the service and create a scalable replicable business that could work independently of me and reach economies of scale.
The challenges of homeopathic entrepreneurship  
Organizational Matrix: I wanted to build an institution and institutionalize my practice of homeopathy so that my medical experience does not die with me, as people die but institutions outlive, evolve and grow. This proved a huge challenge and has taken me more than 10 years to build a strong organization that can not only continue the present entrepreneurship model in an auto mode but also be able to drive growth.
The first mover disadvantage: Marketing gurus speak of a first mover advantage.  But it can also be a disadvantage when there is no path to follow and you have to create your own path.  The cost of experimentation is sometimes high and we learnt the ropes the hard way.  It can be an expensive learning curve for the pioneer.  Secondly, while we grow the market at our cost others copy and just move in
Advertising: How much is too much: In an industry where word of mouth is the prime reason for decision-making by the consumer – advertising is not often well received.  We sometimes hear people say, "They advertise so much, they must be making a lot of money, or if they can spend so much they must be very expensive."
Loosing trained doctors: Gone are the days when people would start and end their careers in one company. Undoubtedly, today, for any HR in the healthcare industry, retaining medical professionals is the major challenge.  At Dr Batra's the attrition rate of doctors is just 2 per cent. What keeps them back are great salaries backed by performance incentives, good working conditions, and 500 hours of CME every year and a watertight contract.
Rentals in retail: All the retailers would agree that with property prices soaring at an unbelievable rate, it hampers our rent-to-revenue ratio, thereby making business unviable.
The scalability challenges: How did we overcome it?
Achieve standardization throughout Infrastructure, Services, Medicines, and Treatment
Treatment at Dr Batra's is standardized through standardized training as well as processes which all doctors follow. The medical audit department also does a regular review of treatments. Medicines are centrally purchased through approved vendors as per international standards and dispatched to every clinic; no clinic is allowed to buy local medicines. Layouts, designs are as per written manual including the right colour of red and blue of our brand and GSM of stationary used across the organization.We believe that we are part of a knowledge industry and we have to regularly update our knowledge. To achieve this we introduced intensive and continual medical training for doctors and measure their KPA's and KRA's for after training efficiency.We remained patient centric and tracked and recorded customer satisfaction and responded to it.
We measure customer advocacy through repeat business and references. A recent Nielsen study showed that as much as 2/3 of our patients would recommend Dr Batra's very strongly. Also, 90 per cent of Dr Batra's hair patients won't change to any other brand of treatment. Another study revealed that 73 per cent of the patients taking allopathy and homeopathy treatment say that Dr. Batra's is the best solution in homeopathy.
Used advertising to build the brand and expand the market
Print & Electronic Media: Dr Batra's does consistent media campaigns through various channels to ensure maximum brand visibility, and growth
PR: We have successfully built our brand and increased credibility by utilizing varied PR channels for our annual events, launch of new clinics, products, technology, success stories etc. Dr Batras is today the most trusted brand in homeopathy in India according to Brand Trust Report 2012.
Conducted market research to get a better understanding of the consumer
The company from time to time to get a better insight into the consumers mind has carried out both qualitative and quantitative research studies. This shapes the internal communication to our patients at the clinics and is also reflected in our advertising.
Pioneered the use of Internet to treat patients online
We introduced the brick and click method for the first in homeopathy. We have treated 4.5 lakh patients in 2005 through the Internet from 86 countries that got us a mention in the Limca book of records for treating the highest number of patients on line.
Maintained medical and financial transparency
It was Mark Twain who said, "Always do right. It will gratify some people and astonish the rest". No prescriptions are coded but are transparently put through our computers to doctors and patients alike. Similarly all payments are through cheques. There are no under the table remuneration for any employee in the company. We have also refused properties which had a cash component.
Followed the best business practices and became the first homeopathic clinic in the world to earn ISO 9001
We are now into TQM, Six Sigma and balanced scorecard. We have recently developed our own ERP program to help us run our business better.
Used technology & Innovations
Blister packing of medicines: Dr. Batras' is the first homeopathic institute in India to introduce blister packing of the traditional white pills to retain the medicinal properties in the purest form till it is consumed. We introduced m-health to enable patients to get treatment through their mobile We were the first to pioneer Tele-Homeopathy Clinic in homeopathy to facilitate doctor-patient interaction through video-conferencing for consultation or a second opinion across various geographies
Standardization of treatment using ERP: Our cutting edge ERP system stores patients' medical histories and treatment details online, enabling standardization of treatment
Mystery Audits: Third-party mystery customers visit the clinics and audit every person involved with the company to help keep track of their performance as well as to maintain the value of the brand.
Dr Batra's is the first to maintain online records of patients' case histories and seamlessly integrate network access to patients' databases for research and evaluation studies across its clinics.
The Clinic has in place well-defined disease protocols for measuring medical outcomes through scientific parametres. There is also a system where cases are escalated for a second opinion with an expert medical committee.
Globalization Challenges
International Partnership: Establishing international partnership is one of the major challenges in expanding business internationally. For example, most countries have 51/49 per cent share holding norm for partnership with local partners holding maximum share in any venture. However, understanding the critical challenges in this, we refused to do business in this kind of share holding pattern till date. Dr Batra's today has 100 per cent ownership in all its international ventures.
Distance & Time zones: Managing clinics miles away is a hurdle. Also, different time zones creates difficulty in smooth functioning
Managing crisis situations: Crisis management becomes extremely difficult in international ventures, as it becomes difficult to commute and take on the spot decisions when business demands
Financial challenges:
Regulatory Challenges: Different countries have different laws and regulations. In Dubai for example, there are separate regulations for foreign partners in Dubai and Dubai Healthcare City. Thus, it is mandatory to take approvals from both the regulatory authorities, which can be a time consuming and difficult process. For example, it took us 14 months to get license to practice in Jumeirah.
Corporate citizenship and corporate responsibility
As doctors, we see so much of pain suffering and death that we become insensitive. "I walked and complained that I had no shoes till I came across a man who had no feet". To keep our sensitivity alive we work with the under privileged, the old age homes, orphanages and animal shelters. We have a 1% formula for our foundation, 1% of salary, vendor billing and profits of the company. Rs 2/- for every paid patient is donated to an animal shelter every month. It motivates us to create wealth so that we can share it. We have initiated the positive health awards for people who have fought impossible medical odds to recover.
Conclusively, with the phenomenal growth that homeopathy is currently enjoying all over the world, we believe we have just touched the tip of the iceberg. Management buffs often ask me about our five-year business plan and the future of our company. I believe that in a dynamic fast changing world the only constant is change. We have to adapt to change according to ground realities and have to be flexible and responsive to market conditions. Therefore while on paper we do have a business plan in practice we change it every day.