Dr.K.S.Murthy Led Innova Children's Heart Hospital, India's first & Premier dedicated hospital for children's heart care awarded as Hyderabad's Most Promising & Valuable Hospital of the year 2014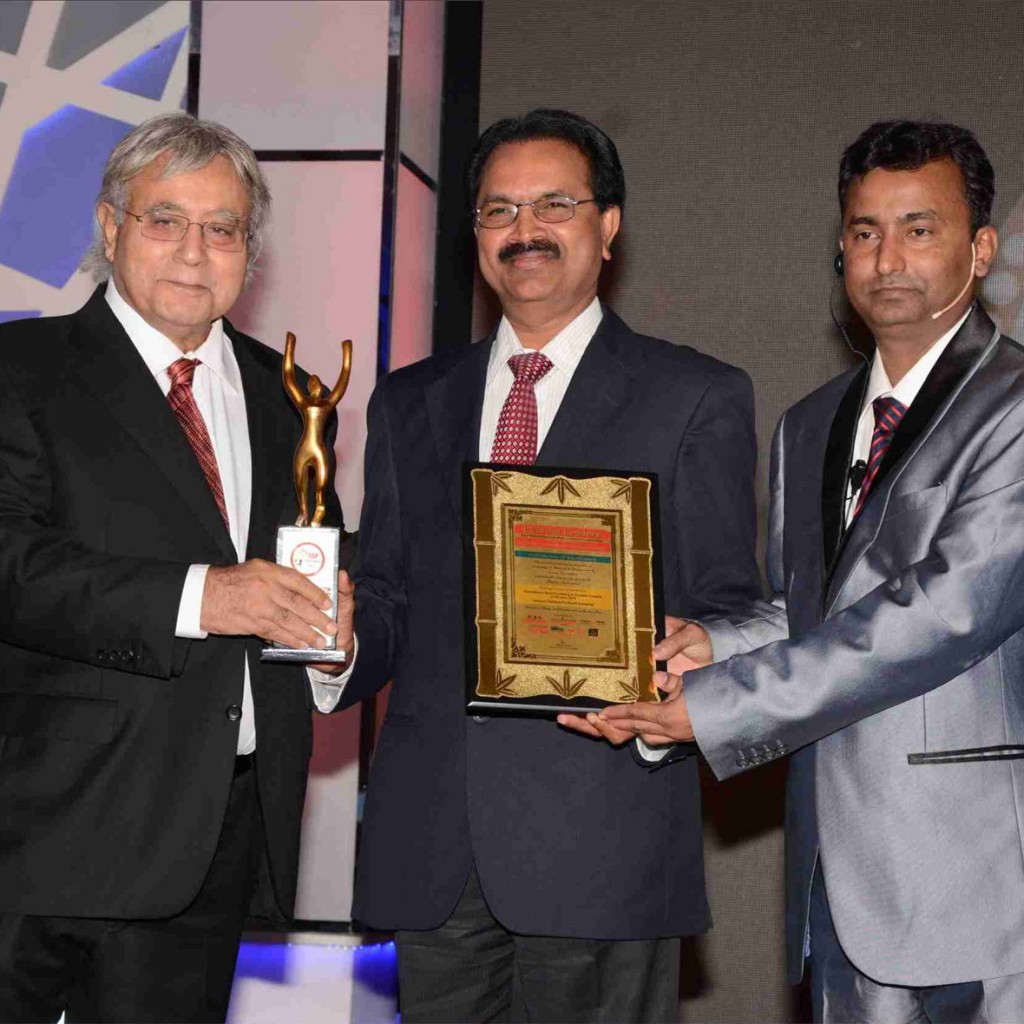 Innova Children's Heart Hospital recognized at Pharmaleaders 2014 power brand as a Hospital with a Philanthropic mindset, innovation & a dedicated hospital for children's heart care in india at 7th Annual Pharmaceutical Leadership Summit & Pharmaleaders Power Brand Awards 2014
Innova Children's Heart Hospital received a big boost when the eminent  jury of Pharmaleader Group, a division of Network 7 Media Group declared the most admired hospital in south known for excellence in children's heart care. Dr. K.S. Murthy led Innova Children's Heart Hospital  was awarded by Asia's most analytical News Media Pharmaleaders in its most awaited & prestigious healthcare meet at 7th Annual Pharmaceutical Leadership Summit & Pharmaleaders Business Leadership Awards 2014 held in Mumbai on the 7th Annual Pharmaceutical Leadership Summit & Pharmaleaders Business Leadership Awards 2014 on Friday, 26th December, Hotel Sahara Star, Mumbai, India. The Summit was running on a powerful theme Make In India – Healthcare Reforms – Insurance,Innovations,Investments & Infrastructure – "Empowering India's Developing Healthcare System" – Investing the Healthcare Solutions of Tomorrow in difficult Times.
Dr.K.S.Murthy, Chief Cardiac Surgeon & Chairman, Innova Children's Heart Hospital also gave a Keynote Address on Challenges of Establishing a dedicated Pediatric Cardiac services in India and the road ahead.
What The Award Means For Innova Hospitals?
By winning this covetred Award, Innova has reached at the exclusive Hospital list of Pharmaleaders Power Brands where india's top Hospitals are recognized since 1999.
Pharma Leaders Awards Grand Jury is comprised of a panel of international industry experts,  representing the top creative minds in the field of healthcare, pharma academia, policy formation & the representatives from the  government. Each year, in addition to online judging sessions, the Pharma Leaders Awards organizes live judging  sessions around the globe to review digital based works as well as collateral materials that support a campaign and which cannot be judged online. These live sessions hosted at prominent international healthcare communication agencies, allow jurors to examine in detail multi-paged works including: sales kits, direct mail, brochures, point of purchase displays, and annual reports. The live voting can be seen at http://pharmaleaders2014.in/vote.php . Winning " Pharmaleaders Power Brand  is an amazing achievement in the healthcare industry. But to win this award from the platform in Pharmaleaders is a significant win & achievement that recognises more than hard work.  In the most difficult discipline of all to be creative and innovative, this Award in healthcare excellence celebrates the diligence of an initiative, innovation & milestone achievements committed to raising the bar of its industry's perspective and at the same time celebrate the victory with the various associated stakeholders who not only demand high degree of business excellence, but support and encourage the recipient  to deliver. The Pharma Leaders Awards has also committed to being the premier award show in  healthcare that sets standards, through industry leaders as judges and navigators as well as critics who know good from great and brilliant from best. Through the Pharma Leaders Awards, we are now seeing outstanding work across the board globally, not only in the conventional media but in new media, digital, viral integrated and interactive. This is what great shows do. Celebrate, recognise and encourage us all to do better is the guiding spirit.Pharma Leaders Awards has an established record of leadership in research, innovation and in ongoing improvements to health services through strong healthcare leadership. These Awards seek to recognise outstanding health leadership by an individual or team resulting in positive change across the global health system. Pharma Leaders Awards attempt to  recognize outstanding individual and team contributions across priority areas selected by the Pharmaleaders Jury. The Pharma leaders  Award recognises outstanding leadership, by an individual or Companies for a distinctive recognition in a clear exhibition of top performances in various verticals.
Now in its 7th year, Pharma Leaders Awards received entries from healthcare corporations, hospitals, Medical Professionals, Research Scientist, and other allied disciplines listed in the award categories.
Award Category Definitions:
Pharma Leaders Awards: Honors an individual or organization in health education making a difference in their community and in health care. In managing the business activities and the practice's internal promotions, has direct authority, and/or decision-making responsibilities. Honoring  a company, and/or organization that has successfully implemented a program that has addressed and acknowledged problems in health care administration or in the delivery of health care. Recognising a company, and/or individual primarily responsible for a medical science discovery or for development of a new procedure, device, service, program or treatment that can save lives or improve the quality of life for a large number of people. Honoring a physician whose job performance is considered commendable by patients and colleagues. Honoring an individual who is an authorized practitioner of medicine, whose job performance is considered commendable by patients and colleagues. Honoring an individual who contributes time and/or expertise to patients or healthcare issues, and whose volunteer efforts have made a substantial positive impact on the community.
The Top Areas of Judging & Selection By The Jury
Leadership
Strategic Planning
Customer And Market Focus
Information And Analysis
Human Resource Focus
Process Management
Business Results
Financial management,
Decision making roles
Business impact. •Business ethics,
Managing rapid growth,
Adapting to change.
Strategic partnerships.
Leadershiproles & Marketing strategies
Corporate philanthropy to society.
Innova Children's Heart Hospital is first of its kind in the sub continent to have an exclusive pediatric cardiac centre, which offers focused and specialized care to the children suffering from heart diseases.It is a trend setting institutional model aiming to provide world-class heart care for children of all sections of society. The need for highly specialized quality care is of extreme essence in this group. The heart disease process and physiology of Neonates and small children are different from adult cardiology and cardiac surgery. They require specially trained doctors, nurses and technicians to achieve excellent results. Since their safety margin is less compared to adults, they require special care to achieve the desired results. Keeping all these in view, we have started exclusive Pediatric cardiac care Hospital.
A team of renowned doctors who have served for years in this specialty, backed by cutting edge technology to achieve excellent results. It also actively ensures excellence in academics, research and training for young professionals.
Dr K.S. Murthy, MS., M. Ch., heads the Hospital. He is a renowned personality in the world of pediatric cardiac surgery. He specialized in Pediatric Cardiac surgery from Green Lane Hospital, Auckland, New Zealand and Madras Medical Mission Chennai. He has performed more than 11,000 surgeries including complex congenital surgeries on the newborn babies with the best comparable results in the world. He has numerous innovative techniques in the field of pediatric Cardiac Surgery to his credits, which are now known by his name. He is the only surgeon in the country to perform Single Stage Unifocalization and has second highest number of surgeries in the world.
Innova so far – In a span of six years, we have performed more than 6,500 surgeries and interventions which are one of the highest numbers in the Country from a single institute and our results are comparable to the best centers in the World. We have performed highest number of surgeries from children of lower socio economic background through Aarogyasri program. The youngest child operated was less than 24 hours and the smallest baby was 800 gms. The Homograft Valve Bank has been added to our facilities and it is the first of its kind in Andhra Pradesh. It will be a boon to children suffering from certain types of congenital cardiac anomalies. On popular demand from local residents, Innova Multi Specialty hospitaland Innova diagnostic laboratoryin adjacent two buildings on either side of existing Innova Children's Heart Hospital, to meet the long felt need of the community. With this expansion, Innova is now in an eminent position to provide super specialty care for both adults and children. As usual, we are emphasizing high quality clinical care with ethical practice. We are also continuing our efforts to train the younger generation and conduct research in basic and clinical sciences. We have well experienced faculty and our in-house training to our dedicated staff is a continuous activity. Innova Super specialty Hospital has sophisticated and modern State of the Art equipment. We have given utmost importance for asepsis. The operation theatres are well maintained with most sophisticated 0.3u hepafilters with laminar flow air tent to reduce intra-operative infection. Our ICUs are also equally well maintained with 5u hepafilters that facilitate many air exchanges. The critical areas are supplied with reverse osmosis processed water with UV sterilization.
Innova Little Heart Foundation collects donations from charitable organizations to help the poor and deserving children to get the free / concessional treatment. It also conducts training courses for the medical professionals. It has tax exemption for donations in India (80 G) and abroad (FCRA). As a part of our social commitment, we have conducted several free medical camps and Continuous Medical Education (CME) programs. We have also conducted five consecutive Innova-Stanford Conclaves as an extension of our academic activity in association with Children's HeartLink (a philanthropic organization, USA) and Lucile Packard Children's Hospital, Stanford University, USA.Our mission is to provide dedicated care to as many children as possible from all sections of society and Our Vision is to conduct medical research and to train younger generation to carry forward our Mission in an innovative model to suit our Indian scenario. True to its name, Innova is an Innovative model to treat the suffering, addressing the needs of people of different socio economic conditions. Innova is driven by an innovative concept to provide World class health care for the sufferings at the affordable cost. Our motto is "Care with Compassion and Ahead with Innovation". Our team's commitment is "We do the very best we know how to—- the very best we can do; and we mean to keep doing so all time to come".
The Source of Inspiration – Founder
Dr.K.S.Murthy, Chief Cardiac Surgeon & Chairman, Innova Children's Heart Hospital
Dr.K.S.Murthy is an alumni of Andhra Medical College, Vishakapatnam and has got his Cardiac Surgery training in the prestigious "All India Institute of Medical Sciences", New Delhi. He had advanced training in pediatric cardiac surgery in Green Lane Hospital, Auckland, New Zealand. He worked as a consultant and head of the department of pediatric cardiac surgery at the Institute of Cardio Vascular diseases, Madras Medical Mission, Chennai for 13 years. He has performed over 8,000 cardiac surgical procedures including Complex Congenital procedures on the newborn babies with result comparable to the best in the world. He brings with him, expertise of rare kind. His main interests are arterial switch operation, single stage unifocalization and single stage repair of intracardiac anomalies associated with arch obstruction. He is the only pediatric cardiac surgeon in the country who performs single stage unifocalization, which is the second largest number in the world. He has presented many scientific papers in the national and international conferences and published more than 100 articles in national and international journals. He has trained many Cardiac Surgeons in India and abroad. He has many Innovative techniques in pediatric cardiac surgery in his credit. He performed may live surgical demonstrations in India and abroad. He is a skillful surgeon with Innovative ideas and excellent academic background. He is the Chairman and Head of the department of Pediatric Cardiac Surgery in "Innova Hospitals"
For Details, Please contact
Innova Children's Heart Hospital, White House, Tarnaka, Moulaali Road, Hyderabad. +91-40-27007272