Dr Rekha Sheth, Dr Bindu Sthalekar, Dr. Jamuna Pai, Dr. Malvika Kohli, Dr. Rashmi Shetty are Pharma Leaders 2017 finalists for the prestigious Transformational & Innovative Woman Skincare Leader of the Decade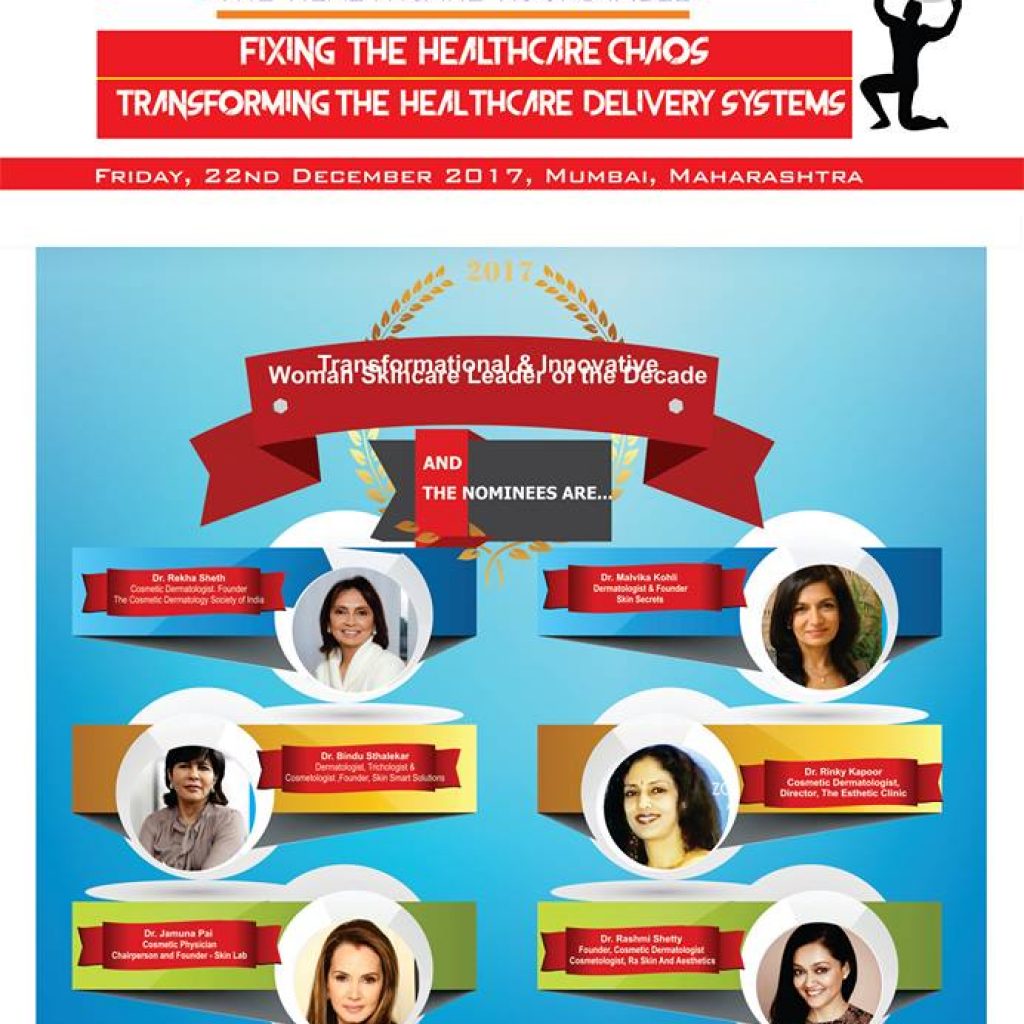 Dr. Rekha Sheth, Dr. Bindu Sthalekar, Dr. Jamuna Pai, Dr. Malvika Kohli, Dr. Rashmi Shetty are Pharma Leaders 2017 finalists for the prestigious Transformational & Innovative Woman Skincare Leader of the Decade
Nation's top Skincare Experts are in public voting after being selected as top six finalists by Network 7 Media Group's public selection & screening
Pharma Leaders 2017 healthcare awards are hunting for the queen of skincare innovations for specific skin types, catering especially to those with ultra-sensitive faces. The nation-wide poll is meant to find out the leader who will be crowned as "Transformational & Innovative Woman Skincare Leader of the Decade" at the prestigious 1oth Annual Pharmaceutical Leadership Summit & Pharma Leaders Business Leadership Awards 2017 to be held on Friday, the22nd December 2017, Mumbai, Maharashtra under the summit theme "The Healthcare Roundtable- Bullet Healthcare Express: Fixing the Healthcare Chaos -Transforming the healthcare delivery systems"
The beauty industry thrives on innovation and buzzwords. Advances in skin technology has been growing rapidly & India is not an exception!. Though india has many talented & innovative woman skincare leaders, it was difficult to pick up top six finalists for the coveted trophy, finally we had to make a decision out of wide range of deliberations. As innovations, merit & breakthrough practices have been the pillars of Pharma Leadersr selection, much importance is given to the innovation in practice for the coveted crown.
Known for championing the cause for healthcare innovations & raising serious discussions to pave way for a better healthcare by bringing together the finest brains of the healthcare industry under one roof, Pharma Leaders, today is india's most credible & prestigious title & a senior leader in healthcare communications. Backed by a decade of experience while working with the stalwarts of the industry, Pharma Leaders has always preferred uniqueness of the subject that appeals to the nation & are first of its kind due to the Speaker's expertise & Pharma Leader's reputation over the years!. It is important to note that Pharma Leaders embarked its Journey in the year 1999 while the healthcare Industry was fast emerging as a rising force though in a very unorganized way. Pharma Leaders was the first to introduce meaningful dialogue amongst the professionals of the Pharmaceutical Industry in the form of Summit & Conclaves. Pharma Leaders Group was also the first to introduce the healthcare awards known as Pharmaleaders Awards to recognize the shining stars of the indian healthcare industry.
Here are the top six finalists
Transformational & Innovative Woman Skincare Leader of the Decade
Dr Rekha Sheth, Cosmetic Dermatologist.Founder,The Cosmetic Dermatology Society of India (CSI). (097)
Dr Bindu Sthalekar, Dermatologist, Trichologist & Cosmetologist ,Founder, Skin Smart Solutions . (098)
Jamuna Pai, Cosmetic Physician , Chairperson and Founder – Skin Lab. (099)
Malvika Kohli, Dermatologist & Founder, Skin Secrets. (100)
Rinky Kapoor, Consultant Cosmetic Dermatologist, Cosmetologist & Trichologist,Director, The Esthetic Clinic . (101)
Rashmi Shetty,Founder, Consultant Cosmetic Dermatologist, Cosmetologist, Ra Skin And Aesthetics. (102)
The coveted award & certificate will be given on the big award glittering night where more than 30 healthcare leaders will be awarded on 22nd December 2017 in mumbai.