Sahyadri,Kovai,Cloudnine,Sunshine,Kohinoor,MaxCure Hospitals in tight race for prestigious India's Most Promising Hospital of the Year 2016 at Pharma Leaders 2016 Award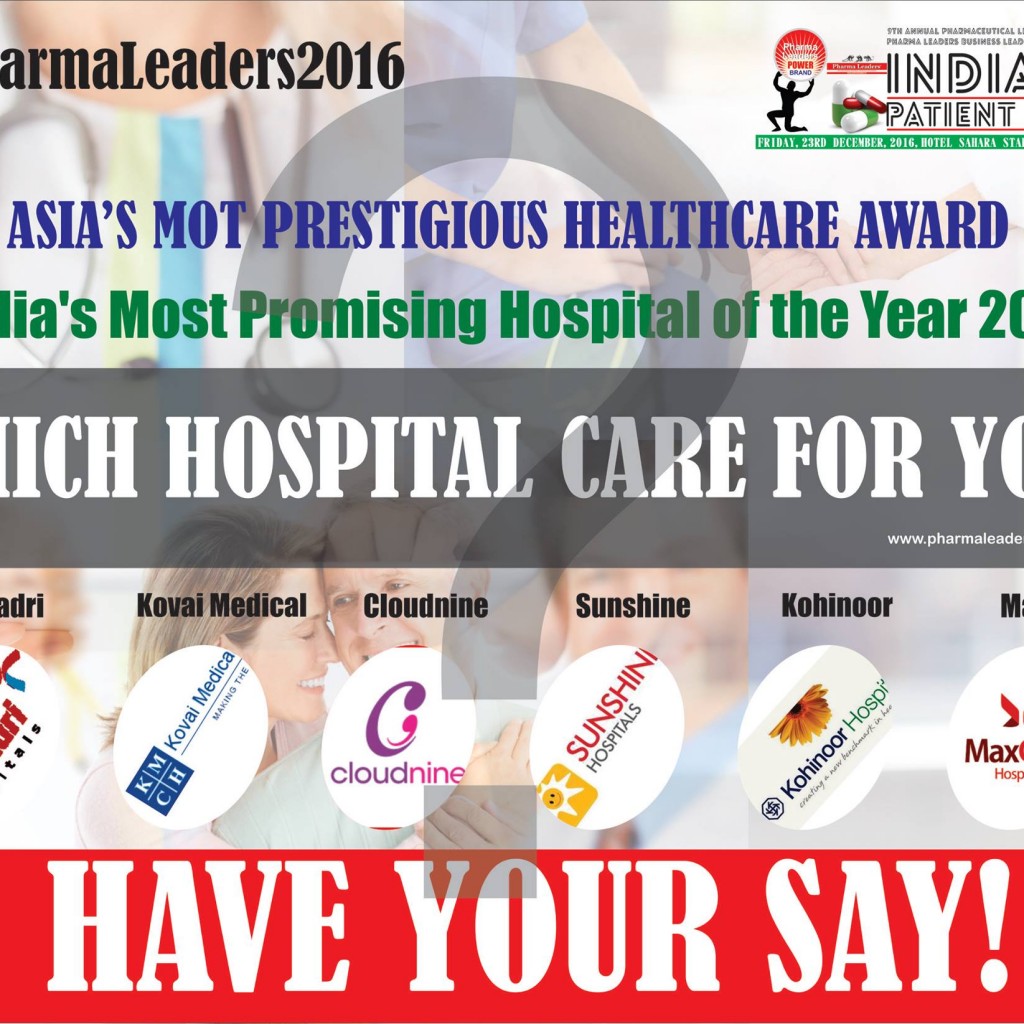 Pharma Leaders 2016 in a Nation wide Research brought together six promising Hospitals for the final six nominees at the much awaited historic 9th Annual Pharmaceutical Leadership Summit & Pharma Leaders Business Leadership Awards 2016. Corporate hospitals in India are increasingly attracting foreign patients for treatment which is boosting the country's image as a hub of medical tourism.According to data available with industry experts, number of patients from abroad visiting India for treatment has been growing by 23 to 25 per cent per annum. India requires 600,000 to 700,000 additional beds over the next five to six years, indicative of an investment opportunity of US$ 25-30 billion. Given this demand for capital, the number of transactions in the healthcare space is expected to witness an increase in near future. The average investment size by private equity funds in healthcare chains has already increased to US$ 20-30 million from US$ 5-15 million.The overall Indian healthcare market is worth around US$ 100 billion and is expected to grow to US$ 280 billion by 2020, a Compound Annual Growth Rate (CAGR) of 22.9 per cent. Healthcare delivery, which includes hospitals, nursing homes and diagnostics centres, and pharmaceuticals, constitutes 65 per cent of the overall market. The Healthcare Information Technology (IT) market which is valued at US$ 1 billion currently is expected to grow 1.5 times by 2020.
#Race continues @shlpune @CloudnineCare @SunshineHosp @drgurava @KohinoorHealth @unmeshjoshi7 @Kohinoor_KTI @MaxCureHospital@SharathTheDoc pic.twitter.com/rpezR4lJoJ

— Pharmaleaders (@pharmaleader) November 13, 2016
Here are the six finalists now in public voting for the final winner!
India's Most Promising Hospital of the Year 2016 Nominees at Pharma Leaders 2016
As the nation gears up to select the most prestigious award for India's Most Promising Hospital of the Year 2016, 9th Annual Pharmaceutical leadership & Leadership Awards has shortlisted top six hospitals whose leadership team is guided by the hospital's mission to deliver innovated, high quality family-centered care for the community. Select the Leader who is to providing medical expertise and personalized care for an exceptional experience
Here are your Nominees
India's Most Promising Hospital of the Year 2016
And the Nominees are
1. Sahyadri Hospitals
2. Kovai Medical Centre & Hospital
3. Cloudnine
4. Sunshine Hospitals
5. Kohinoor Hospital
6. MaxCure Group of Hospitals

These are your options to vote
 How You can Cast Your Vote at your favorite Companies/Leaders*
 All Code number of the Nominees are given below in all categories*
 One Person can vote only once in all category, repeat vote is not allowed & negated*
 Vote by SMS in Mobile costs only normal SMS charge, no extra cost!*
 Vote by E-Mail is allowed for one person in all category, repeat vote is not allowed & negated*
________________________________________
1. Via Online : at www.pharmaleaders2016.com
2. Via Email : Type Your Code & Mail it to myvote@pharmaleaders2016.com ( Example if your code is XXX, than type XXX & send to myvote@pharmaleaders2016.com
3. Via SMS : Type Your Code & send it to ++ 91 7205388142 (Example if your code is XXX, than type XXX & send it to ++ 91 7205388142. This is a standard Indian Number & only standard sms charges will apply & those who has free SMS on the plan, no cost will involve. There are no premium charges. Only one SMS will be accepted at one vote & one category & repeated smses from one number will not be counted)
4. By Pharmaleaders Group : Physical interviews will be carried out by Pharmaleaders Journalists/Researchers to a sample size of 3.5 Lakh voters will be conducted in 16 Cities & will be counted in final votings. Please note that only 40 % of weightage are given to SMS/EMAIL/ONLINE/PHYSICAL INTERVIEWS to gauge the mood of the nation. 60 % purely rests on merits & Jury Members decision to give the real justice & make it transparent in our quest to find the real winners as we have been doing over last 8 annual editions.
"Pharma Leader Jury arrive at the final six nominees for their leadership position in their respective fields after a scrutiny & a detailed research by a team of researchers & experts that are followed year after years at the Pharma Leaders Annual Award Editions thereby making the process very credible & transparent. We are often asked by the nominees as they are surprised when they see their list of final countdown. It is also a matter of great satisfaction & pride even to make it to the top six nominations irrespective of the results of the final winner which will be declared on Friday,the 23rd December 2016 at the grand award ceremony where more than 350 leaders of the industry make it to witness the event of the year".