Aanjaneya Lifecare Eyes European Market, To Forge Collaborate Research with a German Pharma Major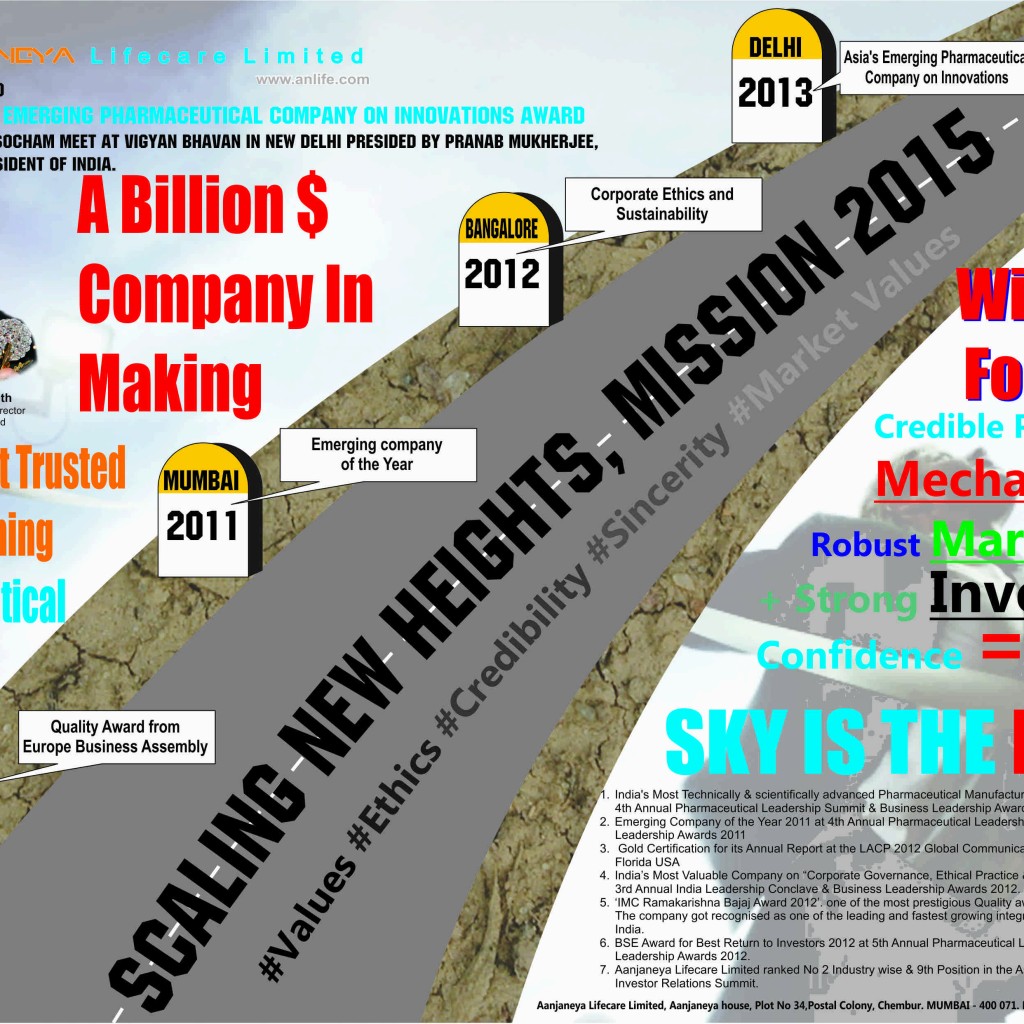 Middle East, Gulf & African Continents top on Agenda post Aanjaneya's Robust Fiscal Growth Q1 Net at 68 pc
In a sequel to Mumbai based Mid Cap Pharma Major Aanjaneya Lifecare's grand acquisition in the beginning of this year in Feb which was a first takeover by any Pharma Company. Aanjaneya Lifecare acquired Apex Drugs and Intermediates (ADI), a Hyderabad-based integrated active pharmaceutical ingredient (API) and intermediate company, for Rs.250 crore, including debt of Rs.185 crore and equity dilution of Rs.65 crore.
Sources close to pharmaledaers reveal that Aanjaneya Lifecare is close on partnering with a German Pharma major for collaborate Research, Crams & Co-Marketing Rights to sell the product range in the Middle East, Gulf & African Continents. In a Press Note to BSE, Aanjaneya Lifecare which announced its Q1 results informed
the regulator that, The Board Members have approved the plans to set up offices in overseas markets such as Uganda, Tanzania, Dubai and Singapore. Aanjaneya had raised Rs 117 crore from its successful IPO & has indicated that the funds will be used for Research, Crams & global expansion. The repeated attempts to reach aanjaneya Lifecare Spokesperson by Pharmaleaders yielded no results & sms sent to Dr Kannan Vishwanath, Vice-Chairman & MD was unanswered.
Pharmaleaders has learnt from its sources that Aanjaneya Lifecare, after successfully acquiring Apex Drugs which will will reduce the company's dependence on third parties for pricing and supply to a large extent & will open up doors for lifestyle segment was looking for a Research Partner to make its presence in NDDS, NCE & Crams in a big way, the proposesd collaboration will enhance the capabilities in a big way says Satya Brahma, Editor-In-Chief of Pharmaleaders, "Aanjaneya is on a road to its entering into the big league as Aanjaneya has a strong presence in API and formulation business and has bulk drug manufacturing facility at Mahad and a finished dosage forms unit near Pune. It is one of the largest contract manufacturers of codeine-based cough syrups in India and exclusively makes Codorex brand of Zydus Cadilla and Codilite tablets among others". It may be noted here that the Shares of Aanjaneya Lifecare today closed at Rs 616.20 on BSE.
Aanjaneya Lifecare has been selected for Nomination for prestigious title "BSE Award for Best Return to Investors" organized by Pharmaleaders in association with Pharmexcil , Ministry of Commerce & Industry along with leading trade bodies at 5th Annual Pharmaceutical Leadership Summit & Business Leadership Awards 2012 in Mumbai on 21st September.