Biocon Chief Dr. Kiran Majumdar Shaw & NMC Chief Dr B.R.Shetty Declared Global Indian Of The Year
August 9, 2012 3:57 am – Biocon Chief Dr. Kiran Majumdar Shaw & NMC Chief Dr B.R.Shetty Declared Global Indian Of The Year
5th Annual Pharmaceutical Leadership Awards 2012 will crown the iconic global leaders in Mumbai. Global Indian of the Year are the highest title of recognition from Pharmaleaders.
Wednesday, 9th August 2012, Mumbai, Maharashtra: When going gets tough, tough gets going, there are times when we have seen great iconic global figures have had their challenging days in an era of protectionist policy & license raj, yet unfazed & optimist of their dreams – to cross geographic boundaries, think global , embrace innovation in work & make it big yet remain simple in thinking, these are the signs of global icons & yes two such iconic personalities who have compelled the world to take note of their startling success are Dr Kiran Mazumdar Shaw of Biocon & Dr B R Shetty of NMC Healthcare. 5th Annual Pharmaceutical Leadership Summit & Business Leadership Awards 2012 ( www.asiapharmaleaders.com ) organised by Asia's leading bi-monthlyhealthcare magazine Pharmaleaders (www.pharmaleaders.co.in ) will salute these two global icons in the commercial capital of India, Mumbai on 21st September 2012 with the presence of who's & who's of healthcare industry, pharma academia, policy makers, brand icons & corporate biggies. Dr Kiran Mazumdar Shaw & Dr B .R. Shetty have been declared by the distinguished juries of the Pharmaleaders as " Global Indian of the Year 2012" .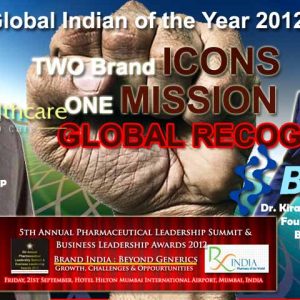 Announcing the names of Dr Kiran Shaw & Dr B R Shetty, Satya Brahma, Editor-In-Chief of Pharmaleaders Group said " The Board Members of Pharmaleaders had no other names when it came to globe-throttling mission & making it big in global map purely on the strength of their self-belief, confidence & exuberance, Dr Kiran Shaw & Dr B R Shetty are the shining stars of the global healthcare Industry while one conquered in Biotechnology, the other experimented with quite a lot of different segments in healthcare, yet remained adamant on their objective, to become a global player", added satya in a release to media. "It is indeed heartening to note that both of them cherished a dream quite contrary to other business leaders, their indomitable thinking, positive energy & meteoric rise to the global space has much to tell us that they have defied all odds & worked in a very hostile climate & earned the goodwill of becoming rarest of rare in business innovations said Satya. We are excited to give these two global icons.
"It is a great honor for me to be nominated as the Global India of the Year 2012. I am deeply humbled and grateful to you for recognizing my achievements & I look forward to attending the Summit and Awards Ceremony" said Dr Shetty to Satya Brahma.
Dr. B.R.Shetty is the Founder, Managing Director & CEO of NMC Healthcare is a partner with Centurion Investments which is under the patronage of His Highness Sheikh Mansour bin Zayed Al Nahayan. Dr.B.R.Shetty was born in an agricultural family in Kaup, India. A graduate in Pharmacology, Dr.B.R.Shetty's meteoric rise to the top is an awe inspiring testimony to what hardwork, passion and dedication can achieve. Over three decades after its inception, under Dr.B.R.Shetty's dynamic leadership, NMC has flowered into a multi-activity conglomerate encompassing a diverse spectrum of businesses like Oil Field Supply and Oil Related Business, Healthcare, Financial Services & Money Remittances, Hospitality etc. Dr.Shetty is today considered a pioneer in healthcare and has been credited for being the first to offer a comprehensive range of healthcare services which cover the entire gamut of medical diagnosis and treatment under a single umbrella. Today, the NMC Healthcare family consists of six healthcare facilities in the UAE Dr. Shetty has acquired a hospital in Alexandria, Egypt which operates under the name of Alexandria New Medical Centre. Dr. B. R. Shetty's clear vision and focus, indefatigable spirit and unflagging enthusiasm, has made him an active partner in the progress of the UAE. Dr. Shetty is committed to the cause of well being and health of its people, and his zeal is as strong as ever to spearhead this mission of change.
It takes originality and a strong will for a woman to first study brewing, and then to turn to a nascent industry when hurdles in the brewery business prove insurmountable. Kiran Mazumdar-Shaw, Chairman and Managing Director of Biocon, India's first biotechnology company. Biocon, today a billion-dollar company and Asia's largest biopharma concern, started in the garage of Mazumdar-Shaw's rented home in Bangalore, with seed capital of Rs10,000 (around Rs4 lakh today). When she set up what is now one of the top 20 biotechnology companies in the world, banks wanted her father. Her vision for the company has evolved from the goal of improving India's scientific record to the dream of "a made-in-India novel drug". When she talks about Biocon's plans to take insulins global and move from cancer care to cancer cure, her enthusiasm seems almost childlike.
5th Annual Pharmaceutical Leadership Summit 2012 will also debate on crucial topics of the healthcare industry on Brand India theme by the veterans of the industry. The much awaited Event will be represented by many corporate tycoons & overseas healthcare experts.