When will india learn its lesson? India accounts for 17% of global maternal deaths (500,000)??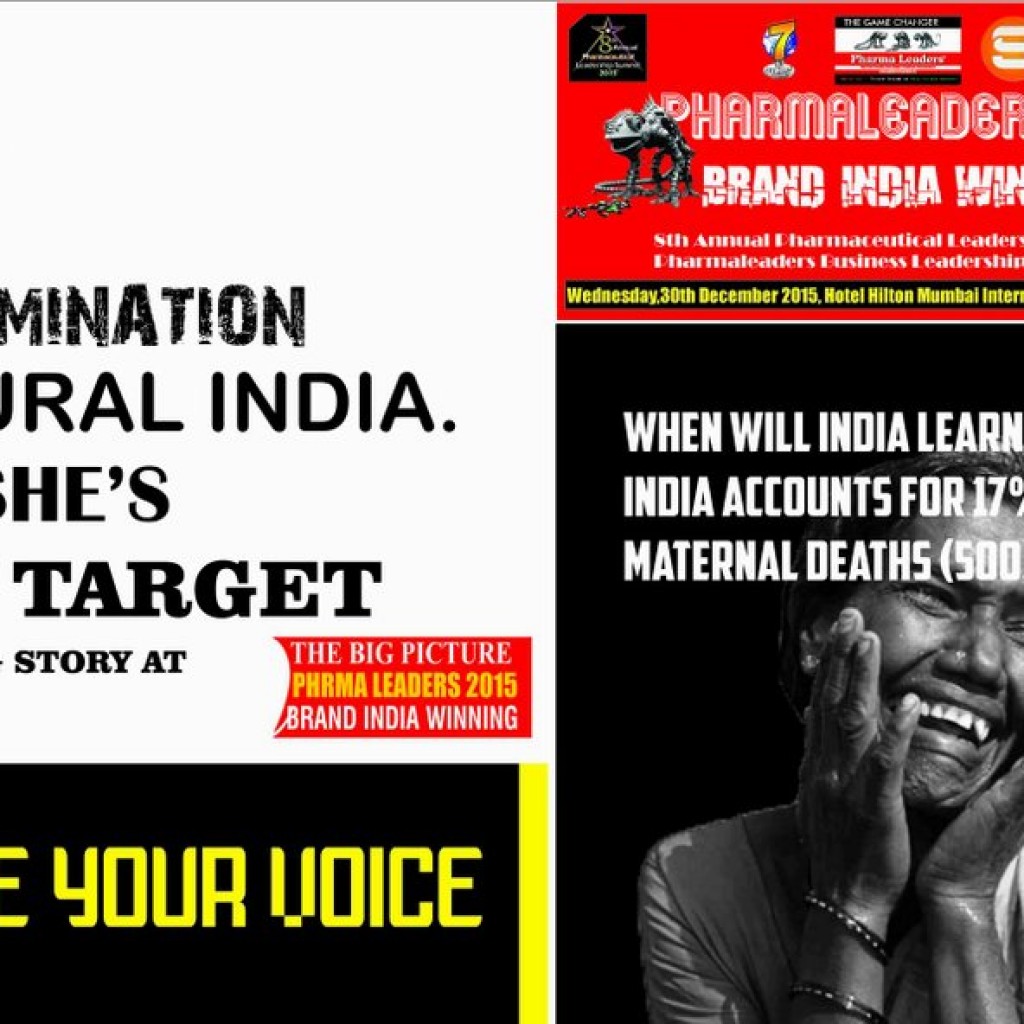 India is arguably the ill-health capital of the world. Home to 17% of the world's population, India accounts for 17% of global maternal deaths (500,000), 21% of deaths among children below five years (1.35 million) and 29% of newborn deaths (779,000). These statistics are a vital indication of the poor state of public health in the country.
For decades, India has continued to ignore the pathetic and dysfunctional state of its health system. Some of us take notice, albeit momentarily, when a foreign expert points this out. The recent interview to the Indian press by Richard Horton, the mercurial editor of the prestigious British medical journal, the Lancet, will in all probability become another forgotten piece of unsolicited advice in the days to come.
When will india learn its lesson?India accounts for 17% of global maternal deaths (500,000)?#Dec30thWithSatyaBrahma pic.twitter.com/O3BkfDD05J

— SATYA BRAHMA (@SATYABRAHMA) November 9, 2015
Yet, it is useful to examine his key refrain:
"India is on the edge and it can take two routes. It can take a route of investing in health and investing in its people and creating a thriving and flourishing future for India … or it can do what it is doing now and ignore health it which case it will see epidemics sweep across the country creating an unsustainable future and destroying national security."
It is a strong indictment indeed of a government that rode to power on the slogan of Sabka Saath, Sabka Vikas – With all, development for all.
Yet it is a criticism that is clearly deserved if one were to go by the record of the 18-month-old National Democratic Alliance government.
Savage cuts in health budgets
Disquiet over the ineptitude and negligence of the government towards the health sector has snowballed over the past year and a half. In July 2014 the government put brakes on attempts by the National Pharmaceutical Pricing Authority to control medicine prices by curbing the profiteering by pharmaceutical companies. Concurrently, initial discussions to roll out an universal free medicines scheme for public facilities have now turned farcical as the government makes sporadic comments about its intent to provide 50 medicines free of cost – a pittance if one were to compare this with over 400 medicines already being provided free of cost in public facilities in Tamil Nadu and Rajasthan.
The mantra of needing to contain the fiscal deficit was invoked to slash committed funds to the health sector by 20% towards the end of 2014. The Union budget of 2015-'16 was equally harsh, and effected a 5.7% cut in total allocation to the health sector – down from Rs.35,163 crores in 2014-15 to Rs.33,152 crores. Simultaneously, allocation for the flagship Integrated Child Development Scheme to the Ministry of Women and Child Development was halved, from around Rs.16,000 crores to a meagre Rs.8,000 crores. Also slashed was the budget for Human Immunodeficiency Virus infection and Acquired Immune Deficiency syndrome, or HIV/AIDS, with the National Aids Control Organisation's budget plummeting from Rs1,785 crores to Rs1,395 crores.
The impact of these cuts on expenditure is starting to be felt on the ground. The National Rural Health Mission's activities have stuttered to a standstill in many states. Within six months of the new government's installation, absorption of funds had started stalling – just 42% of allocated funds were spent in the first six months of the 2014-15 fiscal year. The government's own data (in the yearly Rural Health Statistics) points to extremely disturbing trends.
The number of auxiliary nurse midwives serving in the public system actually saw a decline between 2014 and 2015, as did the number of specialists working in public facilities. In March 2015, only 18.8% of sanctioned posts for specialists in rural public facilities had been filled. Infrastructure creation through the National Rural Health Mission is also slowing down and only 288 new Primary Health Centres and 33 new Community Health Centres were set up in 2014-2015 against 572 and 176 respectively in the corresponding period in 2013-2014. Serious shortages of consumables and human resources have surfaced, with widely reported periodic stock-outs of medicines for the HIV and tuberculosis programmes.
Ideological commitment
What is particularly disturbing is that there is a method in this madness. Conventional public health logic would indicate, as Horton points out, that India needs to urgently shore up public investment in health and healthcare services. India's health system is one of the most privatised in the world and public expenditure is one of the lowest. Of the total expenditure on healthcare in India only 32% is public expenditure – the 16th lowest among 190 countries in the World Bank Database, in the august company of countries such as Sierra Leone, Afghanistan, Haiti and Guinea.
India performs even worse for public spending on healthcare as percent of Gross Domestic Product. At 1.3% of GDP spent on healthcare, India stands 12th from the bottom in the company of Myanmar, Haiti, South Sudan, Timor-Leste and Pakistan. Innumerable public documents have hammered home the need to increase public investment in health by an order of magnitude, including successive Planning Commission documents. The 10-year tenure of the United Progressive Alliance government saw only a marginal rise in investment in percentage of GDP terms. The NDA government, defying all logic, appears committed to reverse even this marginal commitment to increase public investment.
Unfortunately, a fundamentally ideological opposition to public services lies at the heart of the present government's approach to healthcare. The BJP's 2014 election manifesto talked about "health assurance" – a concept never defined concretely. An expert group was constituted with substantial fanfare in the early days of this government on health assurance but was subsequently given a quiet burial. A draft National Health Policy was unveiled and has remained a draft for over six months. It is rumoured that the draft is caught up in a controversy reflecting divergent views expressed by the Ministry of Health and the Niti Ayog. Recently the Niti Ayog came down heavily on the draft policy for suggesting a key role for public services.
A letter from the Niti Ayog to the Ministry, leaked to the press said:
"Even though one might find it morally and ethically reprehensible – this system of two-tier care – one for those with means and a voice and the other for the voiceless and indigent will continue to exist in the short or even medium term as it would be logistically impossible to shift the majority of patient load from the private to the public sector."
The Ayog further castigated the policy for recommending increase in public investment, arguing:
"We need to assess whether drastically increasing investments will run in to the law of diminishing marginal returns, besides posing a challenge to the absorptive capacities of the state health systems."
These arguments lie at the heart of present government's approach to healthcare. It would like to cap public expenditure at a minimum level and at the same time, through public policy measures, encourage the growth of private providers. In spite of the earlier Planning Commission's High Level Expert Group's clear recommendation to wind up the government's health insurance scheme (the Rashtriya Swasthya Bima Yojana), the government is aggressively pushing forward the insurance scheme because the main service providers attached to the scheme are private. The government is also aggressively pushing for private health insurance and the 2015-16 budget explicitly encourages this by announcing tax relief to those who purchase private health insurance. At the same time, states such as Rajasthan are leasing out existing rural public facilities to the private sector.
The ideologues of the BJP do not hide their fondness for the private sector. They would benefit if they were to rationally peruse the record of the private medical sector, both in India and globally. Instances abound of fleecing, callous neglect, and serious professional misconduct within major sections of the private medical sector. The private sector in India is also fast transforming into a corporate sector, thus gobbling up small and medium practitioners, many of whom are being forced to become franchisees of large corporate hospital chains. At the same time the government has exhibited a singular reluctance to operationalise the Clinical Establishments Act, supposedly designed to regulate the private sector.
As Horton pointed out in his interview, India needs to make a choice. Should we commit to stand with Myanmar, Sierra Leone and Haiti and neglect public services or emulate the experiences of better performing health systems in Europe, Thailand and Cuba, who have invested in building public services?
Unfortunately, as the dangerous drift in the present government's policy towards the health sector indicates, we have chosen Haiti over Cuba. We seem condemned to relive, over and over, the horrendous experience of the family in Delhi that committed suicide after their dying dengue affected five-year-old child was turned away by almost a dozen private hospitals.
Amit Sengupta is the national convenor of Jan Swasthya Abhiyan, which is holding a series of public hearings on health rights in the coming months in collaboration with the National Human Rights Commission.
Rural Health care is one of biggest challenges facing the Health Ministry of India. With more than 70 percent population living in rural areas and low level of health facilities, mortality rates due to diseases are on a high. Download our Whitepaper Rural Health Care- Towards Healthy Rural India, on how technology can be leveraged for improving health care in Rural India, excerpts are below.
Reality of Healthcare in Rural India
Healthcare is the right of every individual but lack of quality infrastructure, dearth of qualified medical functionaries, and non- access to basic medicines and medical facilities thwarts its reach to 60% of population in India. A majority of 700 million people lives in rural areas where the condition of medical facilities is deplorable. Considering the picture of grim facts there is a dire need of new practices and procedures to ensure that quality and timely healthcare reaches the deprived corners of the Indian villages. Though a lot of policies and programs are being run by the Government but the success and effectiveness of these programs is questionable due to gaps in the implementation. In rural India, where the number of Primary health care centers (PHCs) is limited, 8% of the centers do not have doctors or medical staff, 39% do not have lab technicians and 18% PHCs do not even have a pharmacist.
India also accounts for the largest number of maternity deaths. A majority of these are in rural areas where maternal health care is poor. Even in private sector, health care is often confined to family planning and antenatal care and do not extend to more critical services like labor and delivery, where proper medical care can save life in the case of complications.
The Problems
Due to non accessibility to public health care and low quality of health care services, a majority of people in India turn to the local private health sector as their first choice of care. If we look at the health landscape of India 92 percent of health care visits are to private providers of which 70 percent is urban population. However, private health care is expensive, often unregulated and variable in quality. Besides being unreliable for the illiterate, it is also unaffordable by low income rural folks.
To control the spread of diseases and reduce the growing rates of mortality due to lack of adequate health facilities, special attention needs to be given to the health care in rural areas. The key challenges in the healthcare sector are low quality of care, poor accountability, lack of awareness, and limited access to facilities.
Various organizations are coming together for improvements in health care and technology plays a crucial role to facilitate this. Information and communications Technology provides hosts of solutions for successful implementation of these changes.
---
The rapid pace of change in health care delivery in the United States has touched all parts of the nation, including small and rural communities. Rural people have been affected by the revolutions in financing, from fee-for-service to managed care; in the use of technology, where treatment is now data-intensive; and in the relationships between patients and professionals, where there are more options and greater expectations of quality and accountability. However, these changes have not affected rural communities in the same way they have affected more central and populous places. Rural people may not be getting their share of the benefits of medical progress and the new structure of health care.
The health care systems of urban America have expanded at a pace reflected in the percentage of the economy dedicated to medical care: from 8% of gross domestic product in 1980 to 13.5% in 1998.1 This growth has not been matched in rural communities because the most important components of that growth—the highest and newest technology, the expansion of systems to monitor and track care-giving and costs of care, and the entry of new types of professionals and institutions into the field—have all occurred largely in urban areas. Rural America remains relatively under-resourced in health care. Many rural communities continue to experience shortages of physicians; as of midyear 2000, 1,182 non-metropolitan areas or populations were designated as Health Professional Shortage Areas (HPSAs) (US Dept of Health and Human Services, unpublished data, 2000), and 36.8% of all rural hospitals lost money compared to 32% of urban hospitals under financial strain.2
A series of articles that are launched in this issue of wjm and are based on the book Rural Health Care in the United States3 describe the comparative characteristics of the rural health care delivery system. The series and the book make the case that rural America has indeed been left behind. If managed care was to bring discipline to the health care market and encourage innovation through competition, then rural places lost that positive effect because managed care companies largely ignored rural markets. Rural health care changed more as a result of the increased integration and assimilation of professionals and institutions into systems and networks than in the way in which health care is financed. Indeed, comprehensive relief legislation focusing on rural health care has been introduced in Congress in 2000. Special programs and policies, such as the Rural Hospital Flexibility Program, which was part of the Balanced Budget Act of 1997, and the Rural Outreach and Rural Networds grant programs have been implemented to cope with the imbalance of major payment programs such as Medicare.
Primary care physicians are an important resource for rural health care. But the distribution of physicians remains skewed toward urban areas: rural America has 20% of the nation's population, but less than 11% of its physicians.3 This imbalance has become worse over time. In 1980, the percentage of physicians practicing in non-metropolitan counties was 13.6%, but it had fallen to 12% by 1990. The total supply of patient care physicians grew by 24.3% between 1990 and 1997, but by only 11.1% in non-metropolitan areas.
The programs that attempt to address the distribution of professional resources and support direct care have been successful up to a point, but they run against a tide of stronger forces that draw capital, people, and services into central places—the cities—and away from rural areas. In a sense, the imbalance of health care resources between rural America and the remainder of the nation is a "condition." That is, it is a persistent characteristic of the system. We describe it, however, as a "problem," which should, as John Kingdon explains in his classic work on policy, attack solutions, even from what he calls the policy "garbage can."4
The trouble is that these solutions address the symptoms rather than the fundamental causes of rural disparities. More than one commentator has noted that the United States does not even have a "rural policy," much less a rural health care policy.5 But only a comprehensive policy, one that links health care resource distribution with underlying economic forces and overall economic planning, can deflect or reverse the factors that cause the imbalance. But the United States has no such policy, a fact that individual states are learning as they attempt to bring the rural regions into the twenty-first century.