India@58 is the theme at 6th Annual India Leadership Conclave & Indian Affairs Business Leadership Awards 2015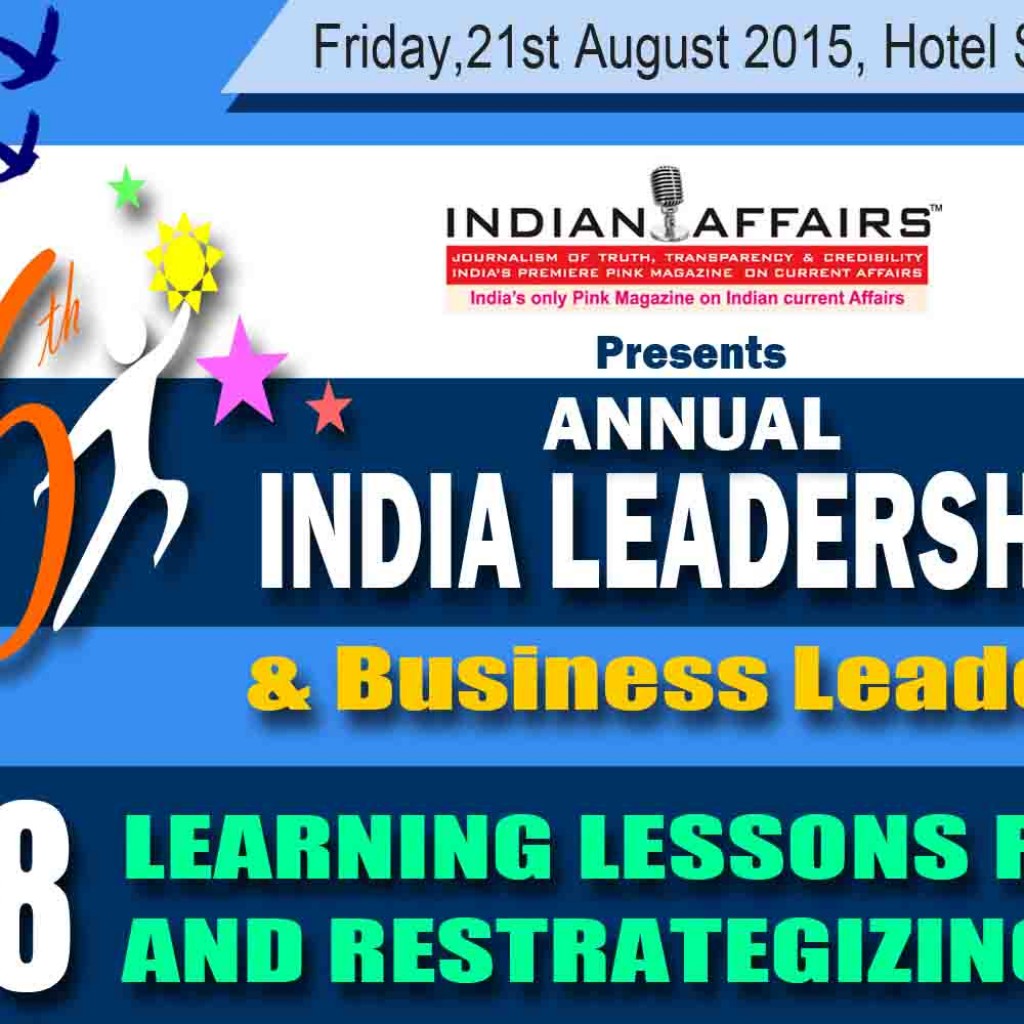 India@58 is the theme at 6th Annual India Leadership Conclave & Indian Affairs Business Leadership Awards 2015. The Annual Leadership Conclave to debate Nation's burning issues from world leaders, industry icons, Politicians, movie stars, rebels, peacemakers and social activists at Indian Affairs Conclave.
The much awaited & Asia's biggest meeting point for thought leadership conclave organized by Network 7 Media Group's initiative from the nation's most widely acclaimed news media India Affairs will host its 6th edition under the theme "India @ 58" : Learning Lessons From The Past And Restrategizing For The Future" at the  6th Annual India Leadership Conclave & Indian Affairs Business Leadership Awards 2015 in Mumbai, India on Friday, the 21st August 2015 where top leaders from the various sections of the society will assemble to make an analysis of India's journey from independence & the important milestones that the country has achieved since last 58 years & the areas where India has remained silent & unmoved & has given a big miss. Currently in its 6th year since the last five successful editions held annually uninterruptedly in key states of the country where the platform evoked great degree of interest & made headlines,the Conclave will be debated & discussed by the speakers of eminence from the world leaders, industry icons, Politicians, movie stars, rebels, peacemakers and social activists. The Grand Annual Affair of Indian Affairs Conclave has been a sold out event & attendance from over 350 delegates coming from india & across the globe. India Leadership Conclave & Indian Affairs Business Leadership Awards 2015 is also keenly a awaited platform for its power brand awards called ILC Power Brands. From business to politics, cinema to sports & public service to social service, ILC Power Brand Awards are the most coveted prestigious & credible awards by an eminent panel of jury members, conferred to top leaders of the country. Iconic leaders like Ratan Tata, Mukesh Ambani, late former prime minister Rajiv Gandhi, Arvind Kejriwal, Priyanka Chopra, Kiran Mazumdar shaw, Narayan Murthy are few of the names who are the recipients of the awards in various categories.
Announcing the 6th edition of Indian Affairs India Leadership Conclave 2015, Satya Brahma, Chairman & Editor-In-Chief of Network 7 Media Group said " The theme of the conclave "India @58" is a timely & an aptly subject as 58 years of india's freedom from the British rule, the momentous march of india to be a self reliant state & a bigger force in the world has been a subject of discussion to many as history is repeated time & again of what India has achieved & missed. The debate is no longer to address on what india could possibly do in near future to emerge as a world Leader in the presence of total 196 countries but to introspect what india missed & the opportunities it lost for lack either of political will or merely an inability to compete & sustain as a emerging super power, the conclave's aim is  to focus on grey areas as well as red areas by the top leaders of the country. In a nation of 1.2 billion populations, India is still confronting the growing dissenting voices on cultural extremism, religious intolerance, terrorism, and decay in progress to tackle Maoist & Naxalite forces & even introspecting the historical blunders it committed over the last five decades. As a Nation, India has its own complex issues like any other country in dealing with healthcare affordability, unemployment, literacy, poverty, growing voices to free Indian system from the shackles of corruption, nepotism, redtapism & vip culture, but India seems to be heading for a momentous & historical reincarnation as the power of India as a bigger force both as a vibrant democracy & a resurgent economy. India is still to find a place in United Nation as a permanent member  & dispel the forces that make india as a two states, one for affluent sections of the society & the other for a bigger chunk of population where roti, kapda & makan is still a realty. Scams after scams has paralyzed Indian growth & economy as power brokers continue to call the shots depriving the voices of million masses, it is time for India to discuss the roadmap for future, said Satya Brahma, Chairman of the 6th Annual India Leadership Conclave & Indian Affairs business Leadership Awards 2015.
More than 300 industry leaders, diplomats, policy makers, social activists, business tycoons, rebel leaders are expected to attend the much awaited annual affair including delegates from the middle east, Europe & asean countries. The grand conclave ILC 2015 will also felicitate leaders & Companies for the remarkable performances for making india move, proud & prosper. Coinciding with the conclave, Network 7 Media Group will present leadership awards also called as ILC power brands in top categories in a glittering award ceremony.
---
Indian Affairs is India's most analytical news media in digital news is a division of Network 7 Media Group which has been at the forefront of championing the cause of a free economy, robust system & independent platform to voice the opinions. Indian Affairs is an independent platform that aims to ventilate the views of the common man through its magazine & digital version. It attempts to create a free mindset of opinions rather than following the chamchagiri of select few unlike other media houses. Over the last years, Indian Affairs, the flagship media outfit of Network 7 Media Group has exposed many in the government & those in Gaddis who try to dictate their own terms & build their own pockets ignoring the pockets of aam admis who are the real interface of mainstream. We don't intend to present a picture that is not true, we present facts, truth , based on factual datas rather than on painted pictures without any substance. Indian Affairs's fight is against those in power who has been continuously raping the federal structure of India with their financial muscle & divides us on the basis of caste, religion, and creed & sometimes on presenting dramatic stories. While we are independent, unbiased & believe in fair journalism, our struggle continues to expose those who want to cut the million voices of India who rise to protest against their barbaric behavior & nepotism. We are candid on facts, simple on arithmatics yet tough against power brokers. No matter how much opposition we face, our mindset becomes stronger & bolder.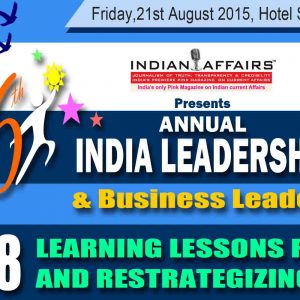 The Group
Network 7 Media Group is the flagship media of SB Brand Network & is a new age digital media company based in India. In an era where world's biggest personalities & brands are heavily focused on building the image through digital media world, Network 7 Media Group is an attempt by a group of passionate & crazy professionals. Since its inception, the initiatives of Network 7 Media Group has always been out of the blues, unconventional & path-breaking. We believe that unless we are charged & not given a electric shock in our mission to achieve something new, we don't feel like taking up the assignments as we believe that uniqueness in the product & original in its concept are the twin mantras that drive us, while we may be mocked & often criticized by  others of being 'risky & unthinkable', only to prove them wrong once we finish the assignment in style & perfection with success. We are often leveled by our critics of being 'unimaginable mindset' & 'unconventional player'. We take these criticism as compliments & feel proud to break the laws to create a new innovation & ideas that are trendsetting. We attempt to create a new mindset of thought process. We convert ideas into actions, challenges into opportunities & dreams to realities. Network 7 Media Group has given birth to some of the excellent media properties in the form of a news media & are widely acclaimed for its independent & unbiased journalism. We have been in the limelight for bringing a change in approach, attitude & a new way of looking. We dont follow a fixed set of rules, regulations, rather we innovate our thinking to experiment with the truth often neglected by the established players. We are fearless, strong & independent.
The Awards
Rated by Experts & widely acclaimed by thought leaders, India Leadership Conclave Annual Affair is just not a leadership forum, it symbolizes the hopes & aspirations of the billion people reflected by the speakers at the forum. "ILC POWER BRANDS" has  been rated in Asia as the most credible & coveted Awards developed by Network 7 Media Group consisting of eminent jury members of the different verticals of the society &  is conferred to the Individuals & Companies in its annual meet at the Indian affairs India Leadership Conclave & Indian Affairs Business Leadership Awards. since the institutionalization of the Business Leadership Awards in 2010, India Leadership Conclave & Indian Affairs Business Leadership Awards has been India's most awaited & asia's most respected set of Awards conferred to Companies & Individuals who have made their mark through their remarkable performances despite all odds & has made India Proud!. Since the last five successful years, the platform has recognized, felicitated more than 300 fortune 500 Companies & towering captains & Leaders of the Country. Widely perceived by Asia as a centre point of discussion, India Leadership Conclave platform too has witnessed deliberation by top business tycoons, politicians, Bureaucrats, Social Reformers etc. Indian Affairs Business Leadership Awards also known as ILC power Brands are set of credible,prestigious awards developed by the eminent Juries & bestowed to the deserving Leaders & Enterprises after a through screening of their landmark achievements for their significant accomplishments in their own fields who have performed under tough conditions imbibing innovation in their business approach. Indian is known in the industry to break rules & give prominence to the hidden talents, big or small as we believe that top leaders should not always be given importance. It is mix of experience, innovation & risk taking abilities that drive our nomination process. The prestigious & coveted Awards were presented in a glittering award ceremony with a full house power packed audience to felicitate &honour the Leaders who made india proud, each time they performed in their field, Indian Affairs watched them closely & did not let it pass as their name appeared as top contenders & were put to public votings& are declared winners
At India Leadership Conclave's ILC Power Brand Awards are the most awaited, credible & prestigious titles conferred to top performers & achievers for bringing a transformational changes in their respective fields while others could not dare to risk & venture into. Indian Affairs Business Leadership Awards also repackaged as ILC Power Brands signifies the importance of a winner whose persistent initiatives in making a change in style, approach & leadership are recognized by the eminent jury members of the Network 7 Media Group. While individual accomplishments in innovation, leadership drive & sustained campaign has driven & impressed the voters in india to chose the top leaders, corporate houses, social organizations, educational institutions & public service firms are selected based on a meticulous selection process & methodology involving the stakeholders, public at large & industry experts. The real thrust is focused on abilities to stay unafraid amidst the uncertain times & unleashing the challenges to make india proud. Indian Affairs Award Winners are those leaders who have a story to tell you of their road to success. We have heard them, have you?