Celebrity Facial Plastic Surgeon Dr.Debraj Shome to throw new lights on "boom In plastic surgery in india – the road ahead" at the historic pharma Leaders 2016 Summit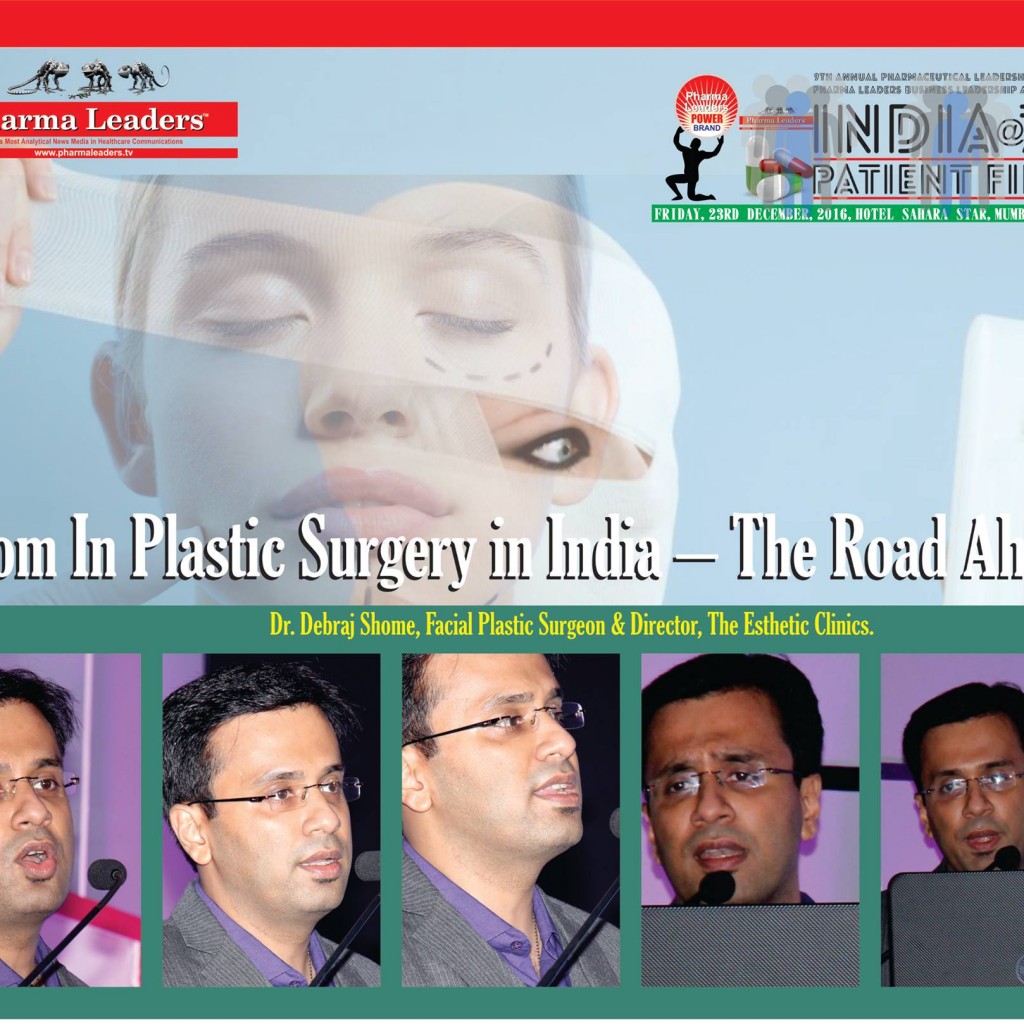 Celebrity Facial Plastic Surgeon Dr.Debraj Shome to throw new lights on "boom In plastic surgery in india – the road ahead" at the historic pharma Leaders 2016 Summit.
Dr. Debraj Shome, facial plastic surgeon and the founder director of the esthetic clinics is all set to deliver the latest in plastic surgery in india & the prominence of india's rise as a top destination of plastic surgery at the 9th annual pharmaceutical leadership summit & pharma leaders business leadership awards 2016 under the "india@70 – patient first" on Friday the 23rd december 2016 at hotel sahara star, mumbai, india. The title of the talk is Boom In Plastic Surgery in India – The Road Ahead.
Cosmetic procedures for men have increased considerably. Contrary to popular belief that women would go to any extent to look beautiful, over the last few years, there has been a boom in men's aesthetic surgery as well. While women want fine definition, men want high definition.According to a global survey by the International Society of Aesthetic Plastic Surgery (ISAPS), India ranks fourth with 9,35,487 cosmetic procedures conducted in the last year. The surgeries account for 4.3% of all procedures recorded globally,In the survey, US topped the list with 18.6% of all procedures being performed there, followed by Brazil with 10.7% and South Korea with 5.3%. Mexico ranked fifth, accounting for 4.2% of the total procedures performed worldwide.Of the total procedures conducted in 2015, 4,20,454 or 4.4% were surgical and 5,15,033 or 4.3% were non-surgical.Among the two types of cosmetic surgeries, reconstructive surgeries were more common in India until a decade ago. Reconstructive surgeries are performed on patients with deformities and those involved in surgeries. 13.5% of patients who get the procedures done in India are from the US, UK
Rising number of geriatric people along with growing demand for retaining young and beauty is a key driver for the global plastic surgery market. In addition, technological advancement in surgeries and rising number of obese and overweight people have also fueled the growth of global plastic surgery market. However, a high cost of surgeries and stringent regulatory approvals are some of the major restraints for the global plastic surgery market. In addition, high risks of adverse effects associated with surgeries also obstruct the growth of global plastic surgery market. Increasing usage of plastic surgery biomaterials develops an opportunity for the market.
In terms of geographic, North America and Europe dominates the global plastic surgery market. This is due to rise aging population and high adoption rates of aesthetic products in these regions. The U.S. represents the largest market for plastic surgery followed by Canada in North America. In Europe, France, Germany, Italy, Spain, and the U.K. holds a major share of plastic surgery market. However, Asia is expected to show high growth rates in the next five years in global plastic surgery market due to increasing awareness about plastic surgery procedures and growing medical tourism industry. China and India are expected to be the fastest growing plastic surgery markets in Asia.
Plastic surgery has been a rising trend as men and women seek to find what they hope is their most ideal face and body. However, it is not just the middle-aged patients seeking cosmetic procedures now. Today, patients as young as 18 are also approaching plastic surgeons asking them to create their most idealistic self.Creating the idealistic human, might somewhat be perceived as a form of art. Many of those who speak of plastic surgery today, often ambiguously relate it to the greatest artists, sculptures and painters of all time. in the past, plastic surgery was preserved as a private matter of the individual, who was often reluctant or embarrassed to share his or her personal under-the-knife procedures. However, in today's modern society, plastic surgery became somewhat of a fashion.
Cosmetic procedures are now the surgery of want not need. The multi-billion dollar industry is represented on virtually all television channels and easily accessed online. Many nations have realised the potential for cosmetic tourism, which can be a significant import to a country's GDP.
More than 350 industry leaders, Policy makers, healthcare visionaries, political leaders, social activists, eminent doctors will be attending the historic pharma leaders 2016 in mumbai. Top voices from the pharmaceutical & healthcare leaders will be addressing the gatherings on topics of tremendous significance. Healthcare reforms, patient care, insurance, pricing, medical tourism, regulatory challenges, hospital management, digital healthcare, start-up healthcare are some of the key debates that will be deliberated in the summit proceedings. Pharma leaders power brand awards will also be conferred to the deserving companies & individual titles in more than 30 categories in the 9th annual pharmaceutical leadership awards 2016 in a glittering award night.
Dr. Debraj Shome is the Co-Founder and currently heads the Institute of Aesthetic Surgery – The Esthetic Clinics, at JCI accredited top-line multi-specialty Indian corporate hospital. He is presently attached to many multi-specialty hospitals including Breach Candy Hospital (Breach Candy, Mumbai, India), Saifee Hospital (Girgaon, Mumbai, India), Nova Specialty Hospital (Chembur, Mumbai, India) and Holy Family Hospital (Bandra, Mumbai, India). He is the head of the Facial Plastic Surgery center at Nova superspecialty surgery, Chembur, Mumbai, India.